RELEASE DATE: 2/02/07
FOR IMMEDIATE RELEASE: Jamie Sweitzer medals at Millrose Games – Junior sets school mile racewalk record – Men's DMR teams breaks school record at New Balance Games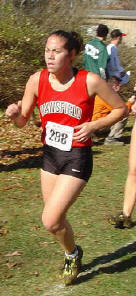 NEW YORK, NY – Jamie Sweitzer medaled at the 100th Millrose Games in Madison Garden Friday evening with a sixth-place finish in the USA Championship Mile Walk.
Sweitzer, one of just three collegiate walkers, finished sixth overall with a school record time of 7:45.25. Loretta Schuellein of Walk USA won the race at 6:52.12.
"It was just a terrific performance at a big-time venue for Jamie," said head coach Mike Rohl. "She cried tears of joy when she was presented with her medal."
Miles away, the men's distance medley relay team of Dave Sanford, Bryan Falcone, John-Mark Stoltz and Bryan Morseman also set a school record with a time of 10:11.88 at the New Balance Games at the Armory. It shattered the school record the team set early this season by 10 seconds and provisionally qualifies them for the National Championships.
Both the Mountaineer men and women will compete at the Cornell Open on Saturday.
-www.GoMounties.com-