RELEASE DATE: 2/11/07
FOR IMMEDIATE RELEASE: Mountie women excel at CTC Championship – Nicole Dann wins three events and Rachel Hall two as MU women finish second – Dan Sanford sets 1000-meter record and Bryan Morseman wins mile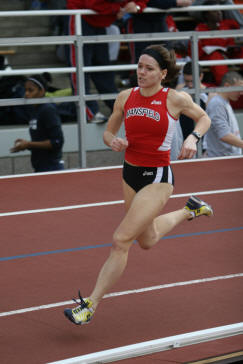 NEW HAVEN, CT – Senior Nicole Dann won the 800, 1000 and mile run and Rachel Hall won the 3000 and 5000 to highlight an extraordinary day for the Mansfield University women's indoor track and field team at the final day of the Collegiate Track Conference Championship at Yale University's Cox Cadge.
"This one was really something special," said head coach Mike Rohl. "Nicole Dann's performance was simply remarkable and Rachael Hall was outstanding as usual, but it was the performance of the entire team that made the afternoon so special."
The Mountaineer women amassed 165 overall points finishing second only to Southern Connecticut State but won more events (8) than any other team.
Dann was dominating in all three races starting the day with a winning time of 5:17.67 in the mile before posting a first-place finish in the 1000 (3:03.70) less than on hour later. She then won the 800 with a time of 2:21.58 before finishing out the afternoon as the opening runner on the third-place 4x400 relay team.
Senior Rachel Hall also had an outstanding meet winning the 5000 on Friday night (18:57.66) and the 3000 on Saturday (10:42.19). She also finished third in the mile run (5:29.21).
Also picking up first-place finishes for the Mountaineers were Katrina Brumfield who set a school record in the high jump with a winning leap of 1.66 meters (5-6) and Marisa Fronczkiewicz who won the 500 with a time of 1:19.48.
Brumfield also finished fifth in the triple jump (10.14 meters) while her high jump mark is improves her NCAA provisional qualifying mark.
The distance medley relay team of Jess Wagner, Lindzie Foster, Heather Wida and Christyna Cain took first with a time of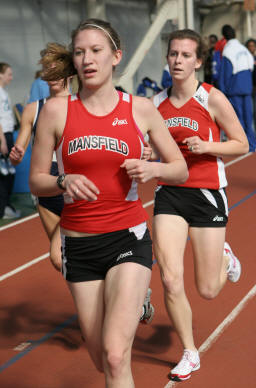 13:07.85.
Cain also finished in third in the 3000 shattering her previous best performance by 18 seconds with a time of 11:01.00.
Katie Foster finished second in the pentathlon to qualify for the PSAC championship and was fourth in the triple jump (10.52).
Jamie Sweitzer was second in the 1500 racewalk (7:32.51) followed by teammates Anine Stanley (7:39.91) and Sarah Groat (8:05.31).
The 4x800 relay team of Heather Wida , Jess Lown, Foster and Sarah Pinkowksi was third (10:38.70). In addition Amanda Fedish set a school record in the 55 meters (7.55).
On the men side Dave Sanford broke the school record in the 1000 with a winning time of 2:30.09 with John Mark-Stoltz taking third (2:36.87). Bryan Morseman was first in the mile run with a time of 4:25.23 while freshman Mike Gray won the shot put with a toss of 49-1/4.
Ricky Jones set a school record in the 55 meters (6.66) and posted a time of 23.36 in the 200.