RELEASE DATE: 2/18/07
FOR IMMEDIATE RELEASE: Morseman Wins 1000 -- Mounties Ready for PSAC Championships
Kent, OH -- Bryan Morseman won the 1000 meter run Saturday afternoon at the Kent State Tune-Up held in Kent, Ohio. Morseman out-kicked the field to win the event in a personal best time of 2:34.84.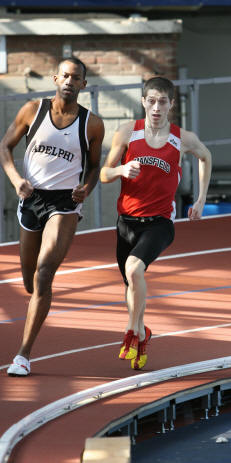 Mansfield closed out the regular season on Saturday evening and will compete next weekend in the PSAC Championships.
Closing out the regular season in style were many Mountaineer athletes placing amongst the leaders at the primarily division I meet.
On the women's side, junior Katrina Brumfield led the Mountaineers with a fourth place finish in the high jump with a clearance of 5'3".
Senior Nicole Dann continued her impressive season with a fifth place finish in the mile run with a time of 5:12.38 and enters the championships ranked second in the PSAC in the mile and third in the PSAC in the 800.
Erica Ferguson saved her best performance of the season for the last chance as she hit a PSAC qualifying mark in the 400 meter run with a time of 1:00.88.
The 4x400 meter relay team of Brumfield, Dann, Ferguson, and Marisa Fronczkiewicz finished sixth with a time of 4:05.93. All four women are qualified for individual events at the PSAC championships.
On the men's side, Dave Sanford continued his streak of impressive finishes with a fourth place finish in the 800 with a time of 1:55.54. Sanford ranks second in the PSAC in the 800.
Freshman John-Mark Stoltz finished seventh in the 600 with a personal best time of 1:26.61. Stoltz is qualified for the PSAC championships in the 800 and is also a part of the distance medley relay.
The Mountaineers will compete in the PSAC Championships at East Stroudsburg next weekend.
The following individuals and relays have qualified for the championships
Women
Katrina Brumfield - 55, HJ, 4x400
Nicole Dann - 800, Mile, 4x400, DMR
Amanda Fedish - 55, 200
Erica Ferguson - 400, 4x400
Katie Foster - 55 hurdles, TJ, Pentathlon
Marisa Fronczkiewicz - 55, 200, 400, 800, 4x400, DMR
Rachel Hall - 800, Mile, 3000, 5000, DMR
Jess Lown - 55 hurdles, Pentathlon
Relays: 4x400, 4x800, DMR
Men
Ricky Jones - 55
Dave Sanford - 800, mile, DMR
John-Mark Stoltz - 800, DMR
Mike Gray - SP
Bryan Morseman - Mile, 3,000, 5,000, DMR
Relays: 4x800, DMR