RELEASE DATE: 2/03/07
FOR IMMEDIATE RELEASE: Sanford Wins Mile -- Dann Shatters 1000 meter Record at Cornell
ITHACA, NY – Members of the Mountaineer track and field squad competed at Cornell University on Saturday making it their second meet in as many days.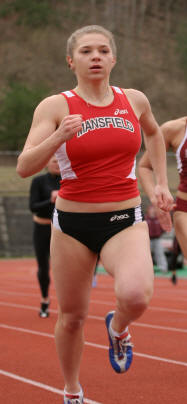 Highlighting the performances at Cornell were Nicole Dann and Dave Sanford. Dann shattered the school record in the 1,000 meter run with her time of 3:00.74 while Sanford picked up the win in the mile with a PSAC qualifying time of 4:25.07
Sanford, who led off the DMR team that hit a provisional qualifier for Nationals yesterday morning in New York City, along with Bryan Morseman, and John-Mark Stoltz, got home from the New York trip in the early morning hours Sunday morning only to board the bus at daybreak for another meet.
Both Morseman and Stoltz each qualified for the PSAC meet on Saturday. Morseman finished second to Sanford in the mile with a time of 4:25.98 while Stoltz earned a PSAC birth in the 800 with a time of 2:00.37.
Mike Gray earned a second place finish in the shot put with a toss of 14.47 meters.
Rickey Jones tied his record mark in the 60 meter dash set earlier this season and picked up a fourth place finish in the event with a time of 7.24..
The Mountaineers also got PSAC qualifying performances on the women's team. Jess Lown finished fifth in the 60 meter hurdles earning her a spot in the PSAC meet with a time of 9.69. Katie Foster reached her first ever collegiate hurdles final as well.
Rachel Hall added another event qualification to her repertoire when she qualified for the PSAC meet in the 800 with a time of 2:24.23. Joining her in the 800 was Marisa Fronczkiewicz who jumped up from the 400 and qualified in the 800 with a time of 2:24. as well.
All three distance runners in the 3,000 meter run set personal bests with Christyna Cain leading the way with a fourth place showing in the 3000 (11:19.49) followed by Jessica Wagner (7th -- 11:32.73) and Amanda Streeter 8th - 11:58.30). Katrina Brumfield was 7th in the 300 dash (43.78).
The Mountaineers open the championship portion of the season next weekend with the CTC Championships.
-www.GoMounties.com-