RELEASE DATE: 10/11/08
FOR IMMEDIATE RELEASE: Mansfield and Millersville battle to 0-0 tie in 2OT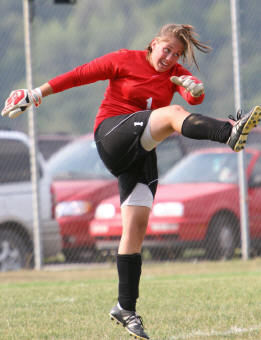 MANSFIELD – Mansfield and Millersville battled to a 0-0 draw in double-overtime in a PSAC East women's soccer game Saturday afternoon at Mansfield.
The game was just as close statistically with Millersville recording seven shots on goal to Mansfield's five. Mansfield goalie Justine Segear was credited with seven stops while Millersville's Jaime Lancaster had five saves in goal.
Mansfield came close to pulling the game out late in the second overtime when Kaitlyn McBride got free on a breakaway on the right side but her shot from17 yards out went just right of the goal.
Mansfield goes to 4-8-1 on the season and travels to West Chester next Saturday.
Soccer Game Summary (Final)

Millersville vs Mansfield University (Oct 11, 2008 at Mansfield University)


Millersville (4-8-2) vs. Mansfield University (4-8-1)
Date: Oct 11, 2008 Attendance: 73
Weather: sunny

Goals by period 1 2 OT O2 Tot
-------------------------------------
Millersville........ 0 0 0 0 - 0
Mansfield University 0 0 0 0 - 0

SCORING SUMMARY:

Shots: Millersville 16, Mansfield University 11
Saves: Millersville 5 (Jaime Lancaster 5), Mansfield University 7
(Justine Segear 7)