RELEASE DATE: 10/03/09
FOR IMMEDIATE RELEASE: Mountie women blanked 3-0 by No. 9 West Chester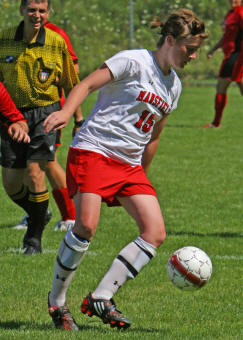 MANSFIELD – Mansfield struggled to generate an offense in a 3-0 loss to No. 9 West Chester Saturday afternoon.
West Chester scored all three of its goals off headers including two on corner kicks to improve to 9-1-1 on the season. Jessica Bennett, Jen Hutchinson and Tara Malkiewicz all scored goals with Sarah Oswald assisting on all three.
Alexis Wilhelm had three saves for Mansfield with Samantha Deliere also credited with a save.
Mansfield travels to East Stroudsburg on Tuesday.
Soccer Game Summary (Final)
WEST CHESTER vs Mansfield University (Oct 03, 2009 at Mansfield University)
WEST CHESTER (9-1-1) vs. Mansfield University (3-7-1)
Date: Oct 03, 2009 Attendance: 162
Goals by period 1 2 Tot
-------------------------------
WEST CHESTER........ 2 1 - 3
Mansfield University 0 0 - 0
SCORING SUMMARY:
1. 16:37 WCU-W Jessica Bennett (2) (Sarah Oswald) - header at 6
2. 34:53 WCU-W Jen Hutchinson (4) (Sarah Oswald) - header off corner kick
3. 47:13 WCU-W Tara Malkiewicz (2) (Sarah Oswald) - header off of corner kick
Shots: WEST CHESTER 17, Mansfield University 2
Saves: WEST CHESTER 0 (), Mansfield University 4 (Alexis Wilhelm 3;
Samantha Deliere 1)