RELEASE DATE: 9/12/09
FOR IMMEDIATE RELEASE: Mansfield falls to No. 13 West Chester in PSAC East women's soccer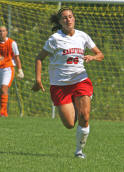 WEST CHESTER – No. 13 West Chester scored three first half goals in beating Mansfield 3-0 in a PSAC East women's soccer game Saturday afternoon.
West Chester held a 14-1 shot advantage in the first half and a 9-5 advantage in the second half to improve to 4-1-0 on the season and 3-1-0 in the PSAC East.
Jen Hutchinson scored the game's first goal in the 12th minute with Lara Bodenstab adding the second goal 13 minutes later. Jen Gangi scored the final goal in the 32nd minute.
Freshman goalie Alexis Wilhelm recorded nine save for Mansfield and sophomore Natalie Adams was credited with two shots.
Mansfield falls to 2-3-1 overall and 0-3-1 in the PSAC East. The Mountaineers host East Stroudsburg on Wednesday.
Soccer Game Summary (Final)
Mansfield University vs #13 WEST CHESTER (Sep 12, 2009 at WEST CHESTER, Pa.)
Mansfield University (2-3-1, 0-3-1 PSAC E) vs. WEST CHESTER (4-1, 3-1 PSAC E)
Date: Sep 12, 2009 Attendance: 300
Weather: 66 DEGREES LIGHT RAIN
Goals by period 1 2 Tot
-------------------------------
Mansfield University 0 0 - 0
WEST CHESTER........ 3 0 - 3
SCORING SUMMARY:
1. 12:30 WCU-W Jen Hutchinson (Heather Manorek)
2. 25:38 WCU-W Lara Bodenstab (Melissa McKeary) - Corner kick
3. 32:34 WCU-W Jen Gangl (Sarah Oswald)
Shots: Mansfield University 6, WEST CHESTER 23
Saves: Mansfield University 9 (Alexis Wilhelm 9), WEST CHESTER 1
(Lyndsie Bernardini 1)