RELEASE DATE: 9/22/09
FOR IMMEDIATE RELEASE: Mansfield Falls to Shippensburg in Women's Soccer Action 3-0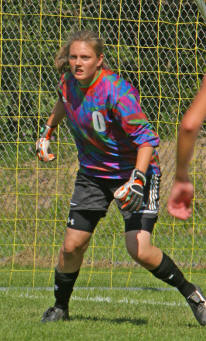 SHIPPENSBURG – The Mansfield soccer team fell in conference action against Shippensburg University 3-0 Tuesday night, giving up two goals in the first half.
Shippensburg's Katie Leverentz came off the bench in the 30th minute of play only to score the game's first goal 26 seconds later. Leverentz also punched in her second season goal 11 minutes later off an assist by Amanda Greenawalt to give Shippensburg the 2-0 lead going into the half.
Shippensburg's final goal came with 10 minutes left in play off a combination by Alison Dowdrick and Gayle Kuntzmann.
Shippensburg outshot Mansfield 22-16.
Mansfield's Alexis Wilhelm recorded nine saves while Shippensburg's Beth Long had five.
Mansfield will host Indiana University of Pennsylvania this Saturday during the Fabulous 1890's Weekend celebrations. Game time is set for 1:30 pm.
Soccer Game Summary (Final)
WS2009
Mansfield University vs Shippensburg (Sep 22, 2009 at Shippensburg, PA)
Mansfield University (3-4-1, 1-4-1 PSAC E) vs. Shippensburg (2-4-2, 2-2-2 PSAC E)
Date: Sep 22, 2009 Attendance: 104
Weather: Cloudy, 75 degrees
Goals by period 1 2 Tot
-------------------------------
Mansfield University 0 0 - 0
Shippensburg........ 2 1 - 3
SCORING SUMMARY:
1. 30:27 SHIP-W Katie Leverentz (1) (unassisted) - finishes second chance after initial sho
2. 41:07 SHIP-W Katie Leverentz (2) (Amanda Greenawalt)
3. 80:17 SHIP-W Alison Dowdrick (1) (Gayle Kuntzmann)
Shots: Mansfield University 16, Shippensburg 22
Saves: Mansfield University 9 (Alexis Wilhelm 9), Shippensburg 5 (Beth
Long 5)