RELEASE DATE: 10/29/09
FOR IMMEDIATE RELEASE: Women's Soccer Drops Heartbreaker in the Final Game of the 2009 Season against Shippensburg 3-2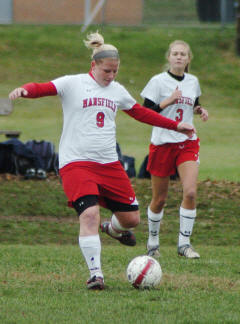 MANSFIELD – Despite goals from senior Katie Parsnik and sophomore Katelyn Smoker, Mansfield University's women's soccer dropped a 3-2 decision against Shippensburg University Thursday afternoon in Smythe Park due to field conditions on the university's field.
Shippensburg took the lead late into the first half around the 43rd minute off a cross pass from Rachael Jeffrey to Katie Leverentz.
Shippensburg opened the second half up with a goal from Jeffrey when she drove the ball from 30 yards out and placed it in the bottom of the net in the 56th minute. Mansfield responded just four minutes later when Smoker headed the ball into the right post after receiving the pass from freshman, Cortney Spertzel to make it her second goal of the season.
After being hurt earlier in the game, Parsnik came back on the field to score her third goal of the season off of another assist from Spertzel to tie the game at 2-2 in the 66th minute of play.
Things went south for the Mountaineers in the 84th minute when Gayle Kuntzmann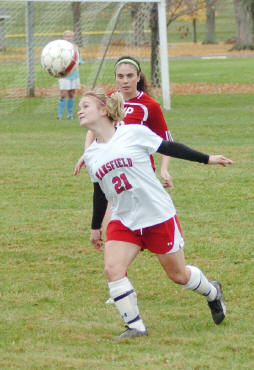 scored in the bottom right corner of the net to take the lead 3-2. Mansfield's offense desperately fought back but fell short as time expired leaving the Mountaineers with a season record of 4-11-1 and 2-10-1 in the PSAC.
Mansfield's freshman goalie, Alexis Wilhelm had ten saves on the day while Shippensburg's Beth Long had seven. Mansfield recorded 19 shots compared to Shippensburg's 18.
Soccer Game Summary (Final)
WS2009
Shippensburg vs Mansfield University (10/29/2009 at Mansfield University)
Shippensburg (6-8-3,) vs. Mansfield University (4-11-1,2-10-1)
Date: 10/29/2009 Attendance: 55
Weather:
Goals by period 1 2 Tot
-------------------------------
Shippensburg........ 1 2 - 3
Mansfield University 0 2 - 2
SCORING SUMMARY:
1. 43:23 SHIP-W Katie Leverentz (4) (Rachael Jeffrey) - cross to the 12
2. 56:29 SHIP-W Rachael Jeffrey (2) (unassisted) - Dribbled from half field
3. 60:41 MANS-W Katelyn Smoker (2) (Cortney Spertzel) - header at right post
4. 66:05 MANS-W Katie Parsnik (3) (Cortney Spertzel) - Rebound off defender
5. 84:44 SHIP-W Gayle Kuntzmann (11) (unassisted) - bottom right corner
Shots: Shippensburg 18, Mansfield University 19
Saves: Shippensburg 7 (Beth Long 7), Mansfield University 10 (Alexis
Wilhelm 10)