RELEASE DATE: 8/30/09
FOR IMMEDIATE RELEASE: Freshmen Erika Moyer and Cortney Spertzel record hat-tricks to lead Mansfield school record 11-0 win over Ohio Valley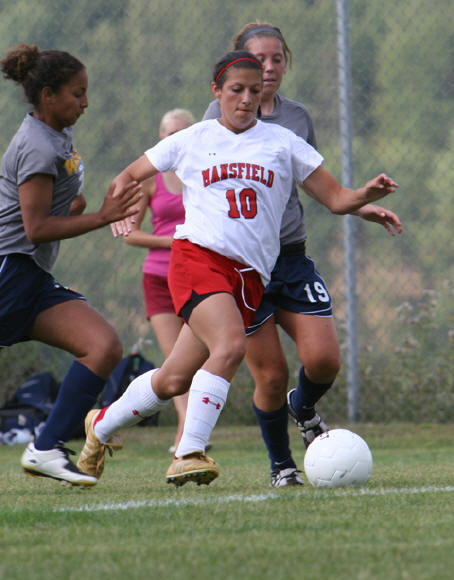 LOCK HAVEN -- Freshmen Erika Moyer and Cortney Spertzel each scored three goals to lead the Mansfield University women's soccer team to a record-setting 11-0 win over Ohio Valley in a game played at Lock Haven Sunday afternoon.
After neither team scored over the game's first 15 minutes, Mansfield exploded for five goals over the next seven minutes to take an insurmountable lead. Sophomore Breanna Forger scored the game's first goal off an assist from Natalie Adams with Moyer getting the second one less than a minute later on an assist by Spertzel.
Mansfield got two goals in the 21st minute, the first from Spertzel off an assist from Forger and the second – 23 seconds later – on an unassisted goal by Moyer. Spertzel got her second goal of the game just over a minute later, this one assisted by Forger.
Sophomore Karli Nester gave Mansfield a 6-0 halftime lead with a goal from Ashley Acuna 10 minutes before intermission.
It would be more of the same in the second half with Spertzel picking up her first collegiate hat-trick on her third goal of the game five minutes into the second half. Alicia Melnick was credited with the assist. Moyer got her hat-trick a little over two minutes later off a pass from Adams.
Hollie Green and Acuna each scored an unassisted goal before Rachael Hayes rounded out the scoring off an assist from Acuna with six minutes to play.
Mansfield, which played its entire available roster, held a 34-1 advantage in shots. Samantha DeLiere and freshman Alexis Wilheim team up for the shutout with Wilhelm credited with a save. Abbi Menear had 16 saves for Ohio Valley (0-2).
The 11 goals broke the school record of seven goals in a game against Pitt-Johnstown set in 2005 and marked the first time since Mansfield established to the program in 2002 the Mountaineers had a pair of players record hat-tricks in a single game. Lyndi Keiser was the only player in school history to score three goals in a game doing so against Bloomfield College in 2006.
Mansfield opens PSAC East competition this Wednesday when the Mountaineers travel to Kutztown.
Soccer Game Summary (Final)
Ohio Valley vs Mansfield University (Aug 30, 2009 at Lock Haven)
Ohio Valley (0-2) vs. Mansfield University (2-0)
Date: Aug 30, 2009 Attendance: 65
Weather: partly cloudy with breeze
Goals by period 1 2 Tot
-------------------------------
Ohio Valley......... 0 0 - 0
Mansfield University 6 5 - 11
SCORING SUMMARY:
1. 14:53 MANS-W Breanna Forger (1) (Natalie Adams)
2. 15:48 MANS-W Erika Moyer (1) (Cortney Spertzel)
3. 21:25 MANS-W Cortney Spertzel (2) (Breanna Forger)
4. 21:48 MANS-W Erika Moyer (2) (unassisted)
5. 22:57 MANS-W Cortney Spertzel (3) (Breanna Forger)
6. 35:13 MANS-W Karli Nester (1) (Ashley Acuna)
7. 50:20 MANS-W Cortney Spertzel (4) (Alicia Melnick)
8. 52:46 MANS-W Erika Moyer (3) (Natalie Adams)
9. 63:33 MANS-W Hollie Green (1) (unassisted)
10. 72:44 MANS-W Ashley Acuna (1) (unassisted)
11. 84:10 MANS-W Rachel Hayes (1) (Ashley Acuna)
Shots: Ohio Valley 1, Mansfield University 34
Saves: Ohio Valley 16 (Abbi Menear 16), Mansfield University 1 (Alexis
Wilhelm 1)