RELEASE DATE: 8/26/09
FOR IMMEDIATE RELEASE: Mansfield women's soccer team opens 2009 season by hosting Goldey Beacom this Friday

MANSFIELD – The Mansfield University women's soccer team opens the 2009 season by hosting Goldey Beacom College this Friday, Aug. 28, starting at 4 p.m.
"It's been a competitive preseason," said head coach Tim Dempsey, who enters his eighth season at the helm of the program. "Camp was physically challenging, but the players have responded well and have gotten after it. I think you can already see where we've improved depth and skill-wise."
With 17 underclassmen on the 24 player roster, the Mountaineers will be young but experienced.
Dempsey has one of his largest squad's in his tenure at Mansfield including 17 returners. Thirteen of the 17 veteran's saw starting action at some point during the season. He also expects several newcomers to vie for starting spots.
Improving the offense will be the first order of business with the Mountaineers featuring a new starting front line from last season.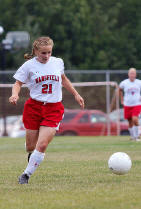 Sophomores Ashley Acuna (Willow Grove/Upper Moreland) and Katelyn Smoker (Genesee/Northern Potter) combined for 10 starts and five goals as freshmen and worked hard during the off-season to improve their skills. Karli Nester (Bally/Boyertown) sat out last season with a medical red-shirt but appeared in 16 games as a freshman in 2007. Sophomore Hollie Green (Dalton/Abington Heights) has shown marked improvement during the preseason.
Freshmen Cortney Spertzel (New Cumberland/Cedar Cliff) and Erika Moyer (Mifflinburg/Mifflinburg) have been impressive during preseason camp and bring added speed and quickness up front. Both are in the mix to earn a shot at a starting spot.
The Mountaineers will have plenty of depth at midfield anchored by sophomore Natalie Adams (Wilkes-Barre/Redeemer). A threat from anywhere on the field, Adams earned 1st Team All-PSAC honors as a freshman. Adams, who started every game at the center-mid position, led the Mountaineers in scoring with a team-high six goals.
Sophomore Breanna Forger (Spencerport,NY/Churchville-Chili) is expected to move up to the midfield after starting 13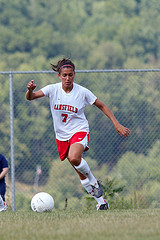 games in the backfield as a freshman. Forger has proven herself to be a solid ball distributor as has fellow sophomore Kaitlyn McBride (Washingtonville,NY/Washingtonville).
Senior Meghan Sullivan (Johnson City,NY/Seton Catholic) started at forward last season but is expected to play at midfield this year where she brings excellent speed to the outside position. Junior Jackie Karlovich (Marlboro,NJ/Marlboro) has started in each of her first two seasons and is a tireless worker who can play all the mid positions.
Sophomore Rachel Spencer (Liberty/Liberty) gained valuable playing time and experience by appearing in 16 games as a freshman and will add depth this season. Fellow sophomore Colleen Trainor (Amenia,NY/Webutuck) played in 11 games last season but has been slowed by an injury in the preseason. Freshman Alicia Melnick (Audobon/Methacton) has shown speed and excellent work rate during preseason camp and is expected to challenge for a starting role. Fellow freshman Amanda Quinn (Prospect Park/Interboro) is a strong, physical player with solid skills. Freshman Kaitlin Keiper (Danielsville/Northampton) has gained experience during preseason camp.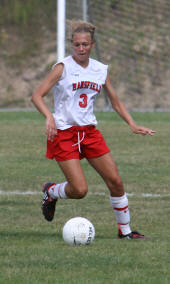 Mansfield has always been strong defensively and that should hold true again this season. Senior Katie Parsnik (Wilkes-Barre/Coughlin) enters her fourth season as a starter. A hard-nosed, physical player Parsnik will anchor the defense for her center back slot. Fellow senior Brittany Lauck (New Cumberland/Cedar Cliff) is also a tough four-year starter who is healthy after coming off an injury-plagued 2008 season.
Junior Kelsey Gelina (Williamson,NY/Williamson) started each of her first two seasons. A tireless worker who had an excellent preseason camp, Gelina will start on the outside this season. Junior Chelsea Bendert (Binghamton,NY/Chenango Valley) also returns on defense and will be pushing for a starting spot after appearing in 12 games including five starts last season.
Sophomore Olivia Carlson (Lenhartsville/Hamburg) gained valuable experience in eight games last year while freshman Rachel Hayes (Millville/Millville) is a versatile player who has spent the preseason working in the backfield but could also see action at midfield.
Junior Sam DeLiere (Mechanicsburg/Cumberland Valley) and freshman Alexis Wilhelm (Annville/Northern Lebanon) are both expected to see time in goal. DeLiere started three games in 2008 and twice as a freshman.