RELEASE DATE: 9/15/09
FOR IMMEDIATE RELEASE: Mansfield evens overall record with 2-0 win over Millersville – Freshman Alexis Wilhelm records shutout – junior Kelsey Gelina scores first collegiate goal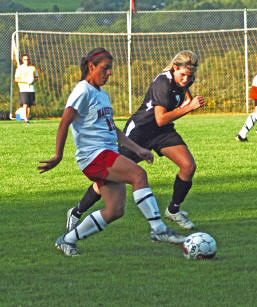 MANSFIELD – Junior Kelsey Gelina kicked a school-record 40-yard goal and freshman Alexis Wilhelm recorded her second shutout in the last three games to lead Mansfield to a 2-0 win over Millersville in a PSAC East game Wednesday afternoon.
Freshman Erika Moyer opened the scoring by nailing a 12-yard kick off the post in the right hand corner of the net 22 minutes into the game.
Mansfield when up 2-0 when Alicia Melnick dumped off the ball to Gelina just shy of midfield and the junior defender nailed the 40-yarder that curved into the upper corner of the net over Millersville's Brandi Tipton.
Wilhelm, who shutout Bloomsburg in double overtime last week, stopped three shots on goal. Brandi Tipton had five saves for Millersville. The Mountaineers had 11 shots to Millersville's 10.
Mansfield improves to 3-3-1 overall and 1-3 in the PSAC.
Soccer Game Summary (Final)
Millersville Univ. vs Mansfield University (Sep 16, 2009 at MAnsfield University)
Millersville Univ. (1-6) vs. Mansfield University (3-3-1)
Date: Sep 16, 2009 Attendance: 136
Weather: sunny, warm, partly cloudy
Goals by period 1 2 Tot
-------------------------------
Millersville Univ... 0 0 - 0
Mansfield University 2 0 - 2
SCORING SUMMARY:
1. 22:19 MANS-W Erika Moyer (4) (unassisted) - break away
2. 29:58 MANS-W Kelsey Gelina (1) (Alicia Melnick) - 10 yards short of half field
Shots: Millersville Univ. 10, Mansfield University 11
Saves: Millersville Univ. 5 (Brandi Tipton 5), Mansfield University 3
(Alexis Wilhelm 3)