RELEASE DATE: 10/20/09
FOR IMMEDIATE RELEASE: Mansfield soccer falls to Millersville 1-0 in defensive struggle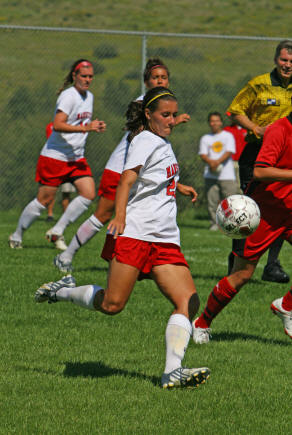 MILLERSVILLE – Allison Snyder scored the game's only goal to lead Millersville to a 1-0 win over Mansfield in a PSAC East women's soccer contest Tuesday night.
Snyder's goal was one of the rare offensive opportunities for both teams in the game. Each team recorded just two shots on goal with Kaitlyn McBride and Jackie Karlovich recording both shots for Mansfield.
Alexis Wilhelm had one save in goal for Mansfield while Taylor Suskie was credited with two saves for Millersville.
Mansfield falls to 2-8-1 in the PSAC East and 4-10-1 overall while Millersville improves to 2-7-1 in the PSAC East and 4-11-1 overall.
The Mountaineers travel to Ursinus this Saturday.
Soccer Game Summary (Final)
WS2009
Mansfield University vs Millersville Univ. (Oct 20, 2009 at Millersville, Pa.)
Mansfield University (4-10-1, 2-8-1 PSAC E) vs. Millersville Univ. (4-11-1, 2-7-1 PSAC E)
Date: Oct 20, 2009 Attendance: 80
Weather: Clear and Warm, 64 degrees
Goals by period 1 2 Tot
-------------------------------
Mansfield University 0 0 - 0
Millersville Univ... 1 0 - 1
SCORING SUMMARY:
1. 8:44 MILL-W Allison Snyder (2) (Jenna Lininger) - 17 beats defender, crosses to wide open
Shots: Mansfield University 3, Millersville Univ. 7
Saves: Mansfield University 1 (Alexis Wilhelm 1), Millersville Univ. 2
(Taylor Suskie 2)