RELEASE DATE: 10/11/09
FOR IMMEDIATE RELEASE: Mansfield women suffer 5-0 loss at Mercyhurst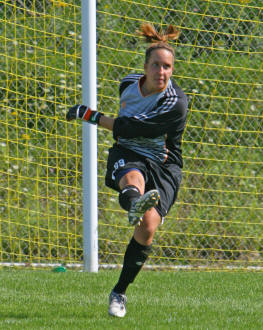 ERIE – Mercyhurst got goals from five different players in a 5-0 win over Mansfield in women's soccer Sunday afternoon.
Mansfield had 13 shots, including five on goal while Mercyhurst was credited with 28 shots.
Breanna Forger, Natalie Adams, Katie Parsnik, Cortney Spertzel and Jackie Karlovich recorded shots on goal for Mansfield.
Samantha Deliere and Alexis Wilhelm combined for eight saves for Mansfield while Rachel Griepsma had five saves in the shutout for Mercyhurst.
Mansfield falls to 3-9-1 on the season while Mercyhurst improves to 8-4-1.
Mansfield host Bloomsburg next Saturday.
Soccer Game Summary (Final)
Mansfield University vs Mercyhurst (Oct 11, 2009 at Erie, Pa.)
Mansfield University (3-9-1) vs. Mercyhurst (8-4-1)
Date: Oct 11, 2009 Attendance: 89
Weather: Mostly sunny and cool, 51 degrees
Goals by period 1 2 Tot
-------------------------------
Mansfield University 0 0 - 0
Mercyhurst.......... 3 2 - 5
SCORING SUMMARY:
1. 5:22 MC-W Jamie Laturell (3) (Megan Macko) - shot from 12 yds beat keeper to right po
2. 17:47 MC-W Taylor Hilinski (7) (Jamie Schroter) - rebound off #7's free kick
3. 23:07 MC-W Jamie Schroter (1) (unassisted) - direct kick from 30 yds
4. 50:34 MC-W Renai Medeiros (1) (Danielle Braun) - left footed shot from top of 18 after gi
5. 63:32 MC-W Paige McDowell (2) (Heather Donovan) - pass to front of goal, shotfrom penalty
Shots: Mansfield University 13, Mercyhurst 28
Saves: Mansfield University 9 (Alexis Wilhelm 5; Samantha Deliere 3;
TEAM 1), Mercyhurst 5 (Rachel Griepsma 5)