RELEASE DATE: 8/23/09
FOR IMMEDIATE RELEASE: Mansfield University women's soccer team helps MARA kick-off 2009 season by hosting free youth soccer clinic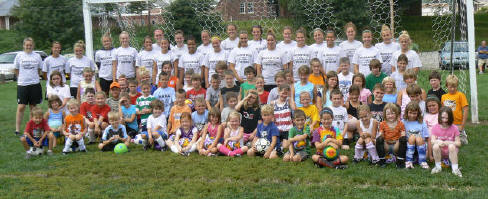 MANSFIELD – The Mansfield University women's soccer team continued a six-year tradition by hosting a free youth soccer clinic for players in the Mansfield Area Recreational Association (MARA) soccer program Sunday afternoon at Smythe Park.
More than 60 youngster's, and a equal amount of parents and grandparents, were on hand to go through drills and work one-on-one and in groups with the 24-members of the 2009 Mountaineer women's soccer team.
Mansfield University head soccer coach Tim Dempsey first organized the preseason clinic six years ago and has noticed a dramatic increase in the participation rate at the clinic as well as participation rates at the junior high and senior high level in the Mansfield area.
"When we first got involved with the MARA program there were only about 10 or 12 girls involved in soccer at the varsity level and there are more than double that today", said Dempsey. "We're trying to build a better awareness of soccer from the roots up and I think this clinic is a fun way to do that."
Dempsey, who also serves as the Director of the MARA soccer program, spoke with parents about what to emphasize when they work with their children and the importance of keeping things fun.
It was a break, of sorts, for the Mountaineer players who have been going through a sometimes grueling preseason camp with two and sometimes three-a-day workouts without a break since last Friday.
"You have to be impressed with our players," said Dempsey. "They've been going at it non-stop for 10 days now and I know they're all tired and sore."
"But they still volunteer to come down here and work with these kids for two hours because they can see what they're doing does make a difference."