RELEASE DATE: 9/02/09
FOR IMMEDIATE RELEASE: Kutztown explodes for six second-half goals to beat Mansfield 6-0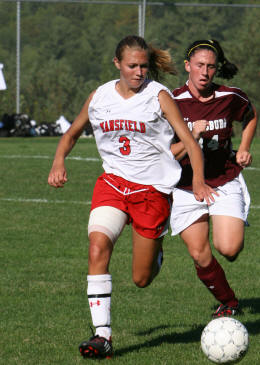 KUTZTOWN – Kutztown broke a scoreless halftime tie with six second-half goals including four over a six-minute span to beat Mansfield 6-0 in a PSAC East game Tuesday afternoon.
Kutztown's Shannon Pennock scored the game's first two goals and assisted on the third as the Golden Bears improved to 2-0 on the season.
Kutztown held a 20-8 shot advantage, including 12-4 in the second half and had a remarkable 12 corners to Mansfield's none.
Freshman Erika Moyer had two shots on goal for Mansfield and Sam DeLiere had nine saves in goal.
It marks the first loss of the season for Mansfield (2-1) which hadn't given up a goal in the first two games.
The Mountaineers will host East Stroudsburg on Saturday afternoon starting 1:30 p.m.
Soccer Game Summary (Final)
Mansfield University vs Kutztown (Sep 02, 2009 at Kutztown, PA)
Mansfield University (2-1) vs. Kutztown (2-0)
Date: Sep 02, 2009 Attendance: 160
Weather: sunny and cool.
Goals by period 1 2 Tot
-------------------------------
Mansfield University 0 0 - 0
Kutztown............ 0 6 - 6
SCORING SUMMARY:
1. 48:00 KUTZ Pennock, Shannon (2) (unassisted) - free kick from 30 yards out.
2. 69:00 KUTZ Pennock, Shannon (3) (unassisted) - turned and fired into the net.
3. 73:00 KUTZ Tice, Jen (1) ;Pennock, Shannon - corner kick by Pennock.
4. 74:00 KUTZ Rozembersky, Kelly (1) (unassisted)
5. 75:00 KUTZ Bushe, Kelly (1) (unassisted)
6. 81:00 KUTZ Froehlich, Emily (1) (unassisted)
Shots: Mansfield University 8, Kutztown 20
Saves: Mansfield University 9 (Samantha Deliere 9), Kutztown 4
(Hackelberg, Alyssa 4)