RELEASE DATE: 9/05/09
FOR IMMEDIATE RELEASE: Women's Soccer Drops Conference Opener against East Stroudsburg 3-1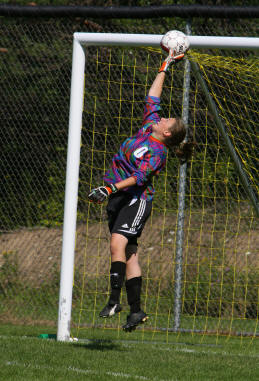 MANSFIELD – Freshman Cortney Spertzel scored her fifth goal of the season but it wouldn't be enough as Mansfield dropped its PSAC East season open 3-1 to East Stroudsburg Saturday afternoon.
East Stroudsburg scored twice in the first half on a direct kick by Marissa Spitler and a header off a corner by Carly Collins to take a 2-0 halftime advantage.
Mansfield closed the gap to 2-1 two minutes into the second half when Spertzel scored from 18 yards out on an assist from fellow freshman Erika Moyer.
East Stroudsburg answered back four minutes on a shot by Devon Miniscalco.
East Stroudsburg held a 18-4 shot advantage with Mansfield goalies Sam Deliere and Alexis Wilhelm combining for six saves.
East Stroudsburg improves to 4-1-0 while Mansfield falls to 2-2.
Mansfield travels to Bloomsburg this Tuesday.
Soccer Game Summary (Final)
East Stroudsburg vs Mansfield University (Sep 05, 2009 at Mansfield University)
East Stroudsburg (4-1-0) vs. Mansfield University (2-2-0)
Date: Sep 05, 2009 Attendance: 165
Weather: Sunny,
Goals by period 1 2 Tot
-------------------------------
East Stroudsburg.... 2 1 - 3
Mansfield University 0 1 - 1
SCORING SUMMARY:
1. 19:54 ESU-W Marissa Spitler (5) (unassisted) - Direct Kick
2. 40:20 ESU-W Carly Collins (1) (Megan Keiser) - header off corner kick
3. 47:11 MANS-W Cortney Spertzel (5) (Erika Moyer) - one touch shot top 18
4. 51:43 ESU-W Devon Miniscalco (3) (Breanne Ingargiola) - top 18
Shots: East Stroudsburg 18, Mansfield University 4
Saves: East Stroudsburg 0 (), Mansfield University 6 (Alexis Wilhelm
3; Samantha Deliere 3)