RELEASE DATE: 10/06/09
FOR IMMEDIATE RELEASE: East Stroudsburg scores three second half goals to beat Mansfield 3-0 – Alexis Wilhelm's 20 saves most in game in NCAA Division II this season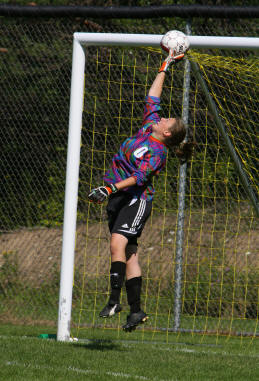 EAST STROUDSBURG – Freshman goalie Alexis Wilhelm had a career-high 20 saves but it wouldn't be enough as East Stroudsburg scored three second half goals to beat Mansfield 3-0 in a PSAC East women's soccer game Tuesday evening at East Stroudsburg.
After a scoreless tie at halftime, East Stroudsburg got the game's first goal 44 second into the second half from Bridget Connell. ESU got a pair of goals from Kailyn Buckley midway through the half to round out the scoring.
East Stroudsburg held a 34-6 advantage in shots.
The 20 saves by Wilhelm are the most in a game in NCAA Division II this season and ties Nicole Rodweller for the second most in a game in school history. She stopped the first 12 shots on goal before allowing a score.
Natalie Adams, Katie Parsnik, Jackie Karlovich and Ashley Acuna each registered a shot on goal for Mansfield.
Melissa Meyers had four saves in goal for East Stroudsburg (9-4-1, 4-3-1).
Mansfield falls to 3-8-1 overall and 1-7-1 in PSAC East play. The Mountaineers travel to Mercyhurst this Sunday.
Soccer Game Summary (Final)
Mansfield University vs East Stroudsburg (Oct 06, 2009 at East Stroudsburg PA)
Mansfield University (3-8-1, 1-7-1) vs. East Stroudsburg (9-4-1, 4-3-1)
Date: Oct 06, 2009 Attendance: 115
Goals by period 1 2 Tot
-------------------------------
Mansfield University 0 0 - 0
East Stroudsburg.... 0 3 - 3
SCORING SUMMARY:
1. 45:44 ESU-W Bridget Connell (Kailyn Buckley)
2. 67:21 ESU-W Kailyn Buckley (Crystal Zerbe) - first shot saved, knocked in rebound
3. 78:15 ESU-W Moreen Hunsberger (Crystal Zerbe)
Shots: Mansfield University 6, East Stroudsburg 34
Saves: Mansfield University 20 (Alexis Wilhelm 20), East Stroudsburg 4
(Melissa Myers 4)