RELEASE DATE: 10/17/09
FOR IMMEDIATE RELEASE: Spertzel's Rolling Ball Wins in Overtime over Bloomsburg; Mansfield Says Goodbye to its Three Seniors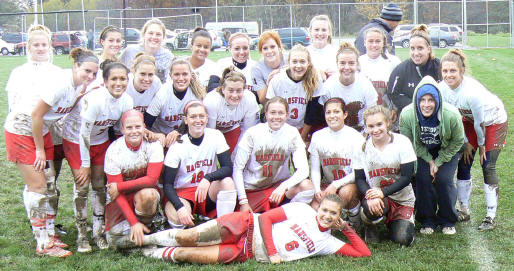 MANSFIELD – After pounding five shots with three of them being on goal, freshman, Cortney Spertzel tapped the winning ball into the goal five minutes into the overtime period in Mansfield's 1-0 win over Bloomsburg University.
With field conditions not at their best, both teams struggled in the first and second halfs of play. In the overtime period Bloomsburg's keeper Frances Nicoletti lost her footing as Spertzel hit the ball while no one from Bloomsburg could get to it in time for the save. The goal was Spertzel's sixth of the season.
Alexis Wilhelm recorded ten saves bringing her season total to 82 saves. Bloomsburg's Nicoletti recorded 11 saves.
Both teams had 17 shots on the day. Mansfield had seven corner kicks while Bloomsburg had nine.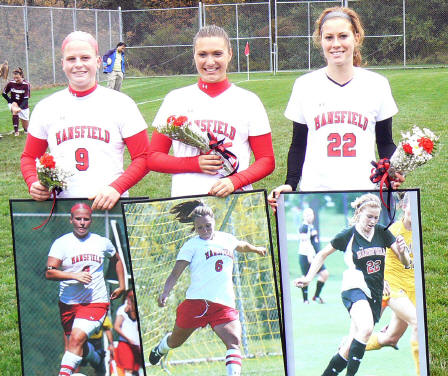 In pregame ceremonies, Mansfield celebrated the careers of seniors Katie Parsnik, Brittany Lauck and Meghan Sullivan. Each player was presented with framed action photos of themselves, flowers and other gifts from their families and their teammates.
Mansfield travels to Millersville University Tuesday, October 20th for their game at 6 p.m.
Soccer Game Summary (Final)
WS2009
Bloomsburg Univer. vs Mansfield University (Oct 17, 2009 at Mansfield)
Bloomsburg Univer. (4-7-3) vs. Mansfield University (4-9-1)
Date: Oct 17, 2009 Attendance: 89
Weather: cloudy, chilly, mild wind, rainy
Goals by period 1 2 OT Tot
----------------------------------
Bloomsburg Univer... 0 0 0 - 0
Mansfield University 0 0 1 - 1
SCORING SUMMARY:
1. 99:28 MANS-W Cortney Spertzel (6) (unassisted) - goalie out of goal, ball rolled in slowly
Shots: Bloomsburg Univer. 17, Mansfield University 17
Saves: Bloomsburg Univer. 11 (Frances Nicoletti 11), Mansfield
University 10 (Alexis Wilhelm 10)