RELEASE DATE: 9/26/09
FOR IMMEDIATE RELEASE: Women's Soccer Drops a Home Loss to IUP 1-0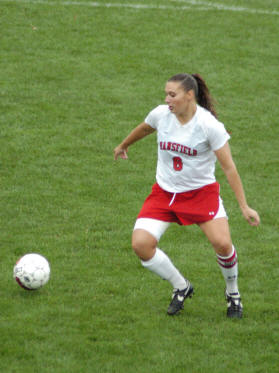 MANSFIELD: The Mountaineer soccer team gave up a goal in the middle of the second half to bring their record to 3-5-1 with their loss to IUP Saturday.
Coming out of a scoreless first half, Indiana University of Pennsylvania's Sarah Romasco took the ball past Mountaineer defenders to score on a one-on-one situation against Mansfield's Alexis Wilhelm.
The Mountaineers had only eight shots compared to IUP's 20. IUP also had a distinct advantage on corner kicks with 10 and Mansfield's one.
Wilhelm had 12 saves bringing her season total to 37. IUP's Kelly Brennan recorded four.
The Mountaineers next host the Golden Bears of Kutztown University Wednesday September 30th at 4pm.

Soccer Game Summary (Final)
Indiana Univ of Penn vs Mansfield University (Sep 26, 2009 at Mansfield University)

Indiana Univ of Penn (6-2-1, 5-2-1) vs. Mansfield University (3-5-1, 1-5-1)
Date: Sep 26, 2009 Attendance: 75
Weather:

Goals by period 1 2 Tot
-------------------------------
Indiana Univ of Penn 0 1 - 1
Mansfield University 0 0 - 0

SCORING SUMMARY:
1. 66:31 IUP-W Sarah Romasco (7) (unassisted)

Shots: Indiana Univ of Penn 20, Mansfield University 8
Saves: Indiana Univ of Penn 4 (Kelly Brennan 4), Mansfield University
12 (Alexis Wilhelm 12)