RELEASE DATE: 9/06/08
FOR IMMEDIATE RELEASE: Mounties give solid effort in 2-0 loss to #3 West Chester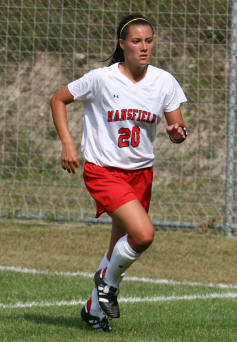 MANSFIELD – Brittany Yetter scored both goals to lead #3 West Chester to a 2-0 win over Mansfield in a PSAC East women's soccer game at Mansfield Saturday afternoon.
Yetter scored an unassisted goal seven minutes into the game to give West Chester a 1-0 halftime lead and added an insurance goal in the 81st minute off an assist from Julia Cresta.
The young Mountaineers played well throughout the game with Justine Segear recording seven saves in goal.
West Chester, ranked third in the nation in the latest NCAA Division II poll, held a 14-6 shot advantage. West Chester goalie Hilary Smart was perfect on all three save opportunities.
Mansfield falls to 1-2 overall and 0-2 in the PSAC East. West Chester improves to 3-0 and 2-0 in the PSAC East.
Mansfield travels to Millersville for a conference game on Tuesday evening.
West Chester vs Mansfield University (Sep 06, 2008 at Mansfield University)
West Chester (3-0) vs. Mansfield University (1-2)
Date: Sep 06, 2008 Attendance: 170
Goals by period 1 2 Tot
-------------------------------
West Chester........ 1 1 - 2
Mansfield University 0 0 - 0
SCORING SUMMARY:
1. 6:32 WCU-W Brittany Yetter (unassisted)
2. 81:06 WCU-W Brittany Yetter (Julia Cresta) - breakaway, 10 yds out
Shots: WCU-W 14, Mansfield University 6
Saves: WCU-W 3 (Hilary Smart 3), Mansfield University 7 (Justine Segear 7)