RELEASE DATE: 9/20/08
FOR IMMEDIATE RELEASE: Women's soccer falls 5-0 at Slippery Rock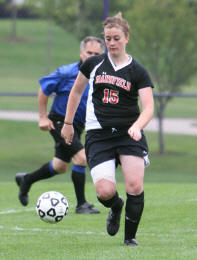 SLIPPERY ROCK – Slippery Rock scored four first half goals on the way to a 5-0 win over Mansfield in a PSAC crossover women's soccer game Saturday afternoon at Slippery Rock.
Slippery held a 26-5 advantage in shots and Mansfield's offense never got untracked in the game.
Sam DeLiere and Kylee Jones each played a half in the goal and both were credited with three saves.
Mansfield falls to 3-4 overall while Slippery Rock improves to 5-1-1.
Soccer Game Summary (Final)
Mansfield University vs Slippery Rock (Sept 20,2008 at Slippery Rock, PA)
Mansfield University (3-4) vs. Slippery Rock (5-1-1)
Date: Sept 20,2008 Attendance: 73
Weather: warm, sunny
Goals by period 1 2 Tot
-------------------------------
Mansfield University 0 0 - 0
Slippery Rock....... 4 1 - 5
SCORING SUMMARY:
1. 15:24 ROCK-W Ashley Paganie (1) (unassisted) - off of a direct kick
2. 22:48 ROCK-W Rachel Knapp (1) (Alexis Chiani)
3. 30:45 ROCK-W Alison Hindley (7) (Rachel Knapp)
4. 32:20 ROCK-W Ashley Paganie (Alyssa Barrett)
5. 55:02 ROCK-W Alison Hindley (8) (Shelby Layman) - cross in front of the net
Shots: Mansfield University 5, Slippery Rock 26
Saves: Mansfield University 6 (Kylee Jones 3; Samantha DeLiere 3),
Slippery Rock 2 (Lauren McManus 2)