RELEASE DATE: 10/21/08
FOR IMMEDIATE RELEASE: Mansfield women's soccer drops 2-0 decision at Shippensburg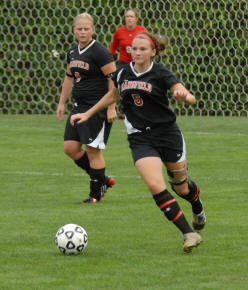 SHIPPENSBURG – Senior Lyndi Keiser had two shots on goal but couldn't find the back of the net as Mansfield dropped a 2-0 decision to Shippensburg in a PSAC East contest Tuesday evening.
Both team battled to a scoreless tie in the first half before Shippensburg got on the board on a goal by Gayle Kuntzman in the 56th minute. Brittany Hibshman was credited with an assist on the play.
Shippensburg added an insurance goal late in the game when Amanda Greeawalt scored in the 85th minute off an assist from Kuntzman.
Shippensburg recorded 12 shots and had nine corners to Mansfield's seven shots and three corners.
Freshman Kylee Jones went the distance in goal stopping four shots.
Soccer Game Summary (Final)
Mansfield University vs Shippensburg (Oct 21, 2008 at Shippensburg, PA)
Mansfield University (4-10-1, 1-8-1 PSAC E) vs. Shippensburg (10-7, 4-6 PSAC E)
Date: Oct 21, 2008 Attendance: 117
Weather: Mostly cloudy, 55 degrees, Winds NW 20 MPH
Goals by period 1 2 Tot
-------------------------------
Mansfield University 0 0 - 0
Shippensburg........ 0 2 - 2
SCORING SUMMARY:
1. 56:46 SHIP-W Gayle Kuntzmann (12) (Brittany Hibshmann) - tip-in off free kick
2. 84:50 SHIP-W Amanda Greenawalt (6) (Gayle Kuntzmann)
Shots: Mansfield University 7, Shippensburg 12
Saves: Mansfield University 4 (Kylee Jones 4), Shippensburg 3 (Beth
Long 3)