RELEASE DATE: 9/17/08
FOR IMMEDIATE RELEASE: Natalie Adams goal with seven seconds remaining lifts Mansfield to 2-1 over Shippensburg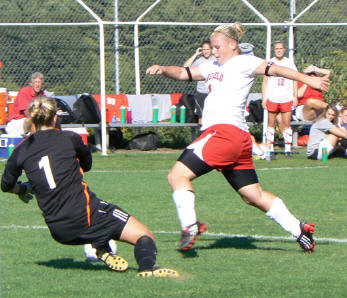 MANSFIELD – Freshman Natalie Adams (Wilkes-Barre/Holy Redeemer) scored both goals, including the game winner with seven seconds remaining to lift Mansfield to a 2-1 win over Shippensburg in a PSAC East contest Wednesday afternoon.
After a scoreless first half, Shippensburg scored the game's first goal on breakaway goal by Alison Dowdrick in the 63rd minute.
Mansfield answered back six minutes later when Adams drilled a 20-yard shot after a corner deflected off a defender.
Mansfield goalie Sam DeLiere (Mechanicsburg/Cumberland Valley) recorded one of her seven saves of the game turning back a Shippensburg shot in the 79th minute.
With just over a minute to play, Mansfield's Lyndi Keiser (Mechanicsburg/Mechanicsburg) put a ball on the net but couldn't get it passed the Shippensburg goalie.
Mansfield was awarded a free kick after an injury with 15 seconds left. Katie Parsnik's (Wilkes-barre/Coughlin) free kick bounced untouched through the defense and Adams hit the game winner from eight yards out on the right side of the goal.
It was the first PSAC East win for Mansfield which improved to 3-3 on the season and 1-3 in the conference. Shippensburg fell to 6-2 overall and 2-2 in the PSAC.
Soccer Game Summary (Final)
FH2008
Shippensburg vs Mansfield University (Sep 17, 2008 at Mansfield)
Shippensburg (6-2,2-2) vs. Mansfield University (3-3,1-3)
Date: Sep 17, 2008 Attendance: 77
Weather:
Goals by period 1 2 Tot
-------------------------------
Shippensburg........ 0 1 - 1
Mansfield University 0 2 - 2
SCORING SUMMARY:
1. 63:31 SHIP-W Alison Dowdrick (2) (unassisted) - breakaway goal, 15yds out
2. 69:13 MANS-W Natalie Adams (2) Corner kick - 20 yds out off rebound from corner
3. 89:53 MANS-W Natalie Adams (3) (Katie Parsnik) - 8 yds out
Shots: Shippensburg 18, Mansfield University 14
Saves: Shippensburg 9 (Beth Long 9), Mansfield University 7 (Samantha
DeLiere 7)