RELEASE DATE: 11/01/08
FOR IMMEDIATE RELEASE: Womenís Soccer Falls In Final Game of the Season to ESU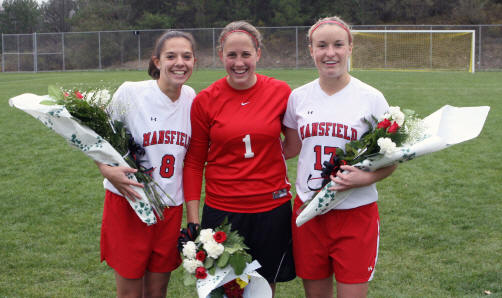 MANSFIELD - Mansfieldís soccer team dropped a 2-0 loss to East Stroudsburg University on Saturday afternoon. Though the loss was not the reason for the tears in the Mountaineer eyes, today was the teamís farewell to their seniors.
Justine Segear (Wilkes-Barre/Coughlin), Lyndi Keiser (Mechanicsburg/Mechanicsburg) and Kaytlen Robinson (New Cumberland/Cedar Cliff) were honored in pregame ceremonies. Though after the game, they were swarmed by their beloved teammates and coaches with hugs and congratulations being exchanged.
Lyndiís sister and opponent for the game, Megan Keiser gave a long hug during and long after the Mountaineers had congratulated East Stroudsburg on the win.
Within the first 14 minutes of the first half, ESUís Kailyn Buckley took a shot against Segear though was not able to get it past as the ball was deflected. Though after a nice save, the deflected ball ended up at the feet of ESUís Lindsay Foder who was able to squeeze the ball past Segear.
Less then 10 minutes later, Lynda Hicks received a cross pass from Megan Keiser and scored ESUís second goal of the game.
ESU took 20 shots on the day with nine of them being on goal. Mansfield went 16 shots with seven on goal for the day.
Segear recorded seven saves while ESUís goalie, Janine Turcio had seven saves also.
Mansfield finishes the season off with an overall record of 4-12-1 with a conference record of 1-10-1.

Soccer Game Summary (Final)
East Stroudsburg vs Mansfield University (Nov 01, 2008 at Mansfield University)

East Stroudsburg (10-5-3(6-4-2)) vs. Mansfield University (4-12-1 (1-10-1))
Date: Nov 01, 2008 Attendance: 83
Weather:

Goals by period 1 2 Tot
-------------------------------
East Stroudsburg.... 2 0 - 2
Mansfield University 0 0 - 0

SCORING SUMMARY:
1. 14:04 ESU-W Lindsay Foder (15) (unassisted) - off rebound from keeper
2. 23:08 ESU-W Lynda Hicks (7) (Megan Keiser) - assisted off cross

Shots: East Stroudsburg 20, Mansfield University 16
Saves: East Stroudsburg 7(Janine Turcio 7), Mansfield University 7(Justine Segear 7)