RELEASE DATE: 8/27/08
FOR IMMEDIATE RELEASE: Mountaineer women's soccer team opens 2008 season at Goldey-Beacom Thursday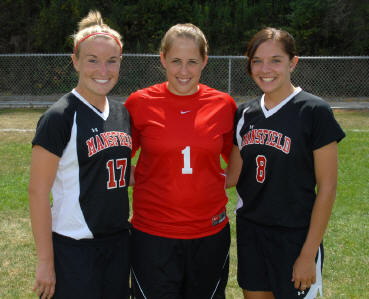 MANSFIELD – The Mansfield University women's soccer team went through its final preseason workout today before heading to Wilmington, DE to open the 2008 campaign at Goldey-Beacom College Thursday afternoon.
"I think we're all excited to get the season started", said Tim Dempsey as he enters his seventh season at the helm of the Mountaineer program.
"We have made significant improvements during the course of preseason camp. I think you will see a more athletic and skilled team with greater depth than we had last season."
Twenty-one players make up the 2008 active roster including eight returners, seven of whom were starters. The 13 newcomers include 11 freshmen and two transfers.
Dempsey knows the quickest way to improve on last seasons misleading 3-13-2 mark is through an improved offense. Last year the Mountaineers were shutout in 10 games and nine games were decided by just one goal.
The scoring starts with senior Lyndi Keiser (Mechanicsburg/Mechanicsburg). An All-PSAC East selection last year,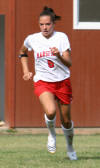 Keiser is the programs all-time leading scorer and has led the team in scoring in each of her first three seasons at Mansfield.
Junior transfer Meghan Sullivan (Johnson City,NY/Seton Catholic) earned the other starting spot on the front line during preseason camp and should instantly draw some of the defensive pressure off of Keiser. Sullivan was a starting forward at Broome County Community College last season when they captured the NJCAA Division II National Championship.
Providing depth are freshmen Ashley Acuna (Willow Grove/Upper Moreland) and Colleen Trainor (Amenia,NY/Webutuck).
The all important mid-line will feature a blend of old and new. Senior Kaytlen Robinson (New Cumberland/Cedar Cliff) returns at her starting role as does sophomore Jackie Karlovich (Marlboro,NJ/Marlboro). Robinson started every game during her first three seasons and Karlovich started all 18 games as a freshman last year.

They will be joined by freshmen Natalie Adams (Wilkes-Barre/Holy Redeemer) and Kaitlyn McBride (Washingtonville,NY/Washingtonville) with Adams playing the key center mid spot.
Freshman Katelyn Smoker (Genesse/Northern Potter) will see time at both forward and midfield. Smoker played for the boy's varsity team at Northern Potter and has had a solid preseason camp.
Also seeing time at midfield will be freshmen Hollie Green (Dalton/Abington Heights), Breanne Smith (Arkport,NY/Arkport) and Rachel Spencer (Liberty/Liberty).
The backline features plenty of experience in returning junior starters Brittany Lauck (New Cumberland/Cedar Cliff) and Katie Parsnik (Wilkes-Barre/Coughlin). Both have started in each of their first two seasons and played in every game last year.
Also returning at back is sophomore Kelsey Gelina (Williamson,NY/Williamson). Gelina started 17 of 18 games as a freshman last season and has shown continued improvement throughout preseason camp. Freshman Breanna Forger (Spencerport,NY/Churchville-Chili) won the final starting spot with her solid performance during the preseason.
Sophomore Chelsea Bendert (Binghamton,NY/Chenango Valley) and freshman Olivia Carlson

(Lenhartsville/Hamburg) will also see playing time at back.
The goalkeeping corps is led by senior Justine Segear (Wilkes-Barre/Coughlin) who returns after starting the past two seasons in the net. She will be backed up by sophomore Samantha DeLiere (Mechanicsburg/Cumberland Valley) and freshman Kylee Jones (Hamlin,NY/Brockport).