RELEASE DATE: 8/23/08
FOR IMMEDIATE RELEASE: Mountaineer women's soccer team host MARA youth soccer clinic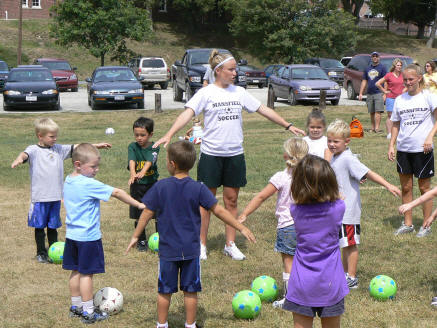 MANSFIELD – The Mansfield University women's soccer team took a break from a sometimes grueling preseason camp schedule to host a free youth soccer clinic for the Mansfield Area Recreational Association (MARA) Saturday afternoon at Smythe Park.
More than 100 elementary-aged soccer players and their parents attended the free session in what has become a Mountaineer women's soccer tradition.
"We've done this for the past seven years," said head coach Tim Dempsey, who along with his wife Heather, volunteers to oversee the MARA soccer program. "It's a great opportunity for our players to interact with the community and it really has become one of the team's favorite activities."
"It's also a great benefit to the community. The number of kids participating in youth soccer has grown every year and this clinic has helped spur that growth."
Kids from ages 5-12 filled Smythe Park with flying soccer balls and squeals of laughter for what has become the unofficial start of soccer season.
Led by seniors Lyndi Keiser, Kaytlen Robinson and Justine Segear, the women's soccer team broke the MARA players down to age groups to teach basic skills and run through drills.
"This is fun," said Robinson, who as a senior volunteered to work with the youngest age group. "I've done it for four years and watching the enthusiasm and joy on the faces of these little kids still makes me smile."
The seniors autographed Mountaineer women's soccer schedule cards for the youngsters after the clinic and invited them all to attend a MU women's soccer game this year.
The women's soccer team will break preseason camp on Sunday by hosting Wilkes University in a scrimmage at the soccer field on campus starting at 3 p.m.
The scrimmage is free and open to the public.