RELEASE DATE: 10/04/08
FOR IMMEDIATE RELEASE: Late Goal Helps Lock Haven Win Saturday 1-0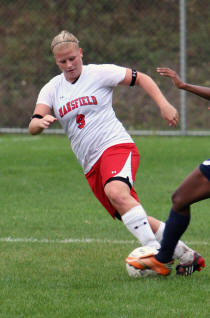 Saturday's game that was suppose to start at 1:30 pm at home, had a change in location due to Mansfield's soccer field being too wet to play on. The game was played at Lock Haven at 11:30 am.
Lock Haven's Arielle Gordon scored the game's only goal in the 66th minute off of an assist from Janine McCarthy.
Mansfield had five shots with one of which being on goal and Lock Haven had 10 shots with seven of them being on goal.
Katie Parsnik recorded two shots while teammates, Jackie Karlovich, Lyndi Keiser and Natalie Adams all had one shot apiece. Adams' shot was on goal.
Justine Segear recorded six saves on the day while Haley Zinn had one save.
Mansfield will travel to Bloomsburg on the 7th for their game at 5:30 pm and will be home next weekend on the 11th for their game with Millersville at 1:30 pm.

Soccer Game Summary (Final)
Mansfield University vs LHU-W (Oct 04, 2008 at LOCK HAVEN, Pa.)

Mansfield University (4-7) vs. LHU-W (5-6)
Date: Oct 04, 2008 Attendance: 113
Weather: 51 & partly cloudy

Goals by period 1 2 Tot
-------------------------------
Mansfield University 0 0 - 0
LHU-W............... 0 1 - 1

SCORING SUMMARY:
1. 66:00 LHU-W Arielle Gordon (Janine McCarthy)

Shots: Mansfield University 5, LHU-W 10
Saves: Mansfield University 6 (Justine Segear 6), LHU-W 1 (Haley Zinn 1)