RELEASE DATE: 10/30/08
FOR IMMEDIATE RELEASE: Mansfield women's soccer edged 1-0 by Kutztown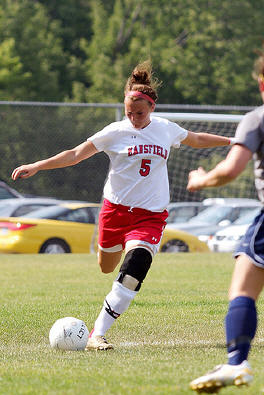 MANSFIELD – Mansfield held the advantage in shots but Kutztown's Chelsea Bressler scored the games' only goal as Mansfield fell to Kutztown 1-0 in a PSAC East contest Thursday afternoon.
Both teams battled to a scoreless first half before Bressler's shot tipped off the hands of goalie Justine Segear in the 57th minute.
Mansfield had two solid shots by Breanna Forger and Katelyn Smoker in the final 20 minutes but couldn't get the ball past the Kutztown goalie.
Segear had two saves in goal while Kutztown's Steph Addleman recorded five.
Mansfield closes out the 2008 campaign by hosting East Stroudsburg for Senior Day this Saturday starting at 1:30 p.m.
Kutztown vs Mansfield University (Oct 30, 2008 at Mansfield University)
Kutztown (12-5-2) vs. Mansfield University (4-11-1)
Date: Oct 30, 2008 Attendance: 65
Weather:
Goals by period 1 2 Tot
-------------------------------
Kutztown............ 0 1 - 1
Mansfield University 0 0 - 0
SCORING SUMMARY:
1. 57:04 KUTZ-W Chelsea Bressler (unassisted) - tipped off goalies hands bottom left cor
Shots: Kutztown 9, Mansfield University 11
Saves: Kutztown 5 (Steph Addleman 5), Mansfield University 2 (Justine
Segear 2)