RELEASE DATE: 8/28/08
FOR IMMEDIATE RELEASE: Mansfield women's soccer opens season with 3-0 win at Goldey-Beacom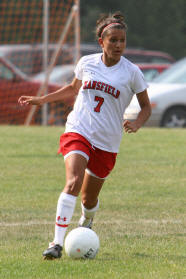 WILMINGTON, DE – Natalie Adams (Wilkes-Barre/Holy Redeemer), Lyndi Keiser (Mechanicsburg/Mechanicsburg) and Ashley Acuna (Willow Grove/Upper Moreland) each scored a goal and Justine Segear (Wilkes-Barre/Coughlin) recorded a shutout to lead Mansfield to a 3-0 win over Goldey-Beacom College in the season opener for both teams Thursday afternoon.
"It was a good effort, especially in the second half," said head coach Tim Dempsey. "We created a lot of chances and put together some very good passing combinations. The defense played very well in the second half and never really let their offense get started."
After a slow start, Adams, a freshman center midfielder, scored a goal in her first collegiate game when she drilled a shot from 22-yards out into the upper right corner of the net 39 minutes into the game.
Adams goal was the only score in the first half before senior Lyndi Keiser, the Mountaineers all-time leading scorer, recorded her 18th career goal a little over two minutes in the second half after beating the goal on a one-on-one situation.
Mansfield picked up its third goal late in the half when freshman Ashley Acuna scored on a free kick off a header from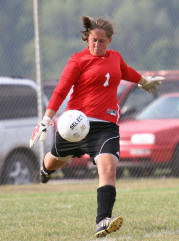 freshman Katelyn Smoker (Genessee/Northern Potter) in the 78th minute.
Mansfield held a 22-6 shot advantage and Segear stopped all three shots on goal.
The three goals were the most scored in a game for the Mountaineers since a 5-0 win over Bloomfield College midway through the 2006 season and is the most goals scored in a season opener in the programs eight-year history.
Mansfield will host Bloomsburg on Sept. 3 in their conference opener.
Soccer Game Summary (Final)
Mansfield vs Goldey-Beacom (Aug 28, 2008 at Wilmington, DE)
Mansfield (1-0) vs. Goldey-Beacom (0-1)
Date: Aug 28, 2008 Attendance: 75
Weather: Cloudy
Goals by period 1 2 Tot
-------------------------------
Mansfield........... 1 2 - 3
Goldey-Beacom 0 0 - 0
SCORING SUMMARY:
1. 38:57 MANS -- Natalie Adams (1) (unassisted) - Shot from 22 yards out, upper right corn
2. 47:05 MANS -- Lyndi Keiser (1) (unassisted) - One on one with keeper
3. 77:59 MANS -- Ashley Acuna (1) (Katelyn Smoker)
Shots: MANS 22, Goldey-Beacom 6
Saves: MANS 3 (Justine Segear 3), Goldey-Beacom 9
(DEGENHARDT, Kristin 9)