RELEASE DATE: 9/11/08
FOR IMMEDIATE RELEASE: Keiser and Acuna each score a goal in 2-1 win over Elmira in women's soccer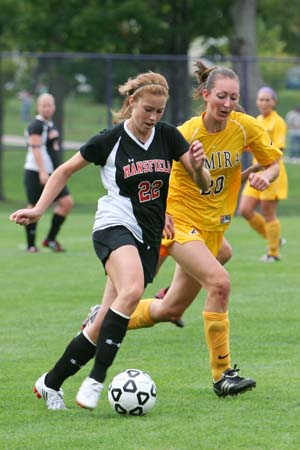 ELMIRA, NY – Senior Lyndi Keiser and freshman Ashley Acuna each scored unassisted first half goals to lead Mansfield to a 2-1 win over Elmira College in a non-conference women's soccer game Thursday afternoon in Elmira.
Keiser scored the game's first goal in the 12th minute playing a shot on a breakaway into the upper left corner of the net from five yards out. It was her fourth goal of the season and 27th of her career.
Acuna gave Mansfield a 2-0 lead knocking a lose ball into the left side of the net in the 29th minute for her second goal of the year.
Elmira closed the gap to 2-1 when Jenna Willington hit a goal 15 minutes into the second half.
Samantha DeLiere played goalie in the first half for Mansfield and recorded one save while freshman Kylee Jones played the second half with three saves.
Mansfield held a 16-10 shot advantage.
The game marked the first time the nearby schools played a women's soccer match.
Mansfield improves to 2-3 on the season.
Soccer Game Summary (Final)
Mansfield University vs Elmira Eagles (Sep 11, 2008 at Elmira, NY)
Mansfield University (2-3) vs. Elmira Eagles (0-4)
Date: Sep 11, 2008 Attendance: 65
Weather: 65, Sunny
Goals by period 1 2 Tot
-------------------------------
Mansfield University 2 0 - 2
Elmira Eagles....... 0 1 - 1
SCORING SUMMARY:
1. 11:41 MANS-W Lyndi Keiser (unassisted) - breakaway right upper left corner shot 5
2. 29:34 MANS-W Ashley Acuna (unassisted) - free ball left side 5 yds out
3. 50:09 ECWS2008 Jenna Wellington (unassisted) - shot right 1v1 5 yards out
Shots: Mansfield University 16, Elmira Eagles 10
Saves: Mansfield University 4 (Kylee Jones 3; Samantha DeLiere 1),
Elmira Eagles 7 (Stacy Krom 4; Karissa Wilson 3)