RELEASE DATE: 9/27/08
FOR IMMEDIATE RELEASE: Women's Soccer Slams Alderson-Broaddus College 6-0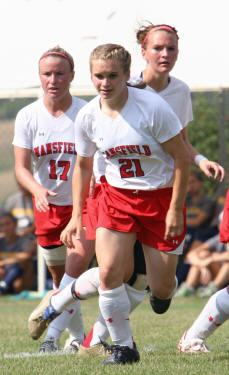 It was Mountaineer goal after Mountaineer goal as the women's soccer team tossed up six goals on the scoreboard Saturday afternoon in rainy conditions.
Natalie Adams led the charge honing together two goals and an assist. Adams opened the day up when Lyndi Keiser pass the ball back to Adams as they drove the ball downfield, Adams then took the ball and shot it straight at a defender. The ball hit the defender's leg but still advanced towards the goal and into the left corner of Sarah Cooper's goal.
Adams' assist came just one minute later in the 34th minute when she passed the ball to Katelyn Smoker who then shot the ball from 18 yards out into the left side of the goal.
Two minutes into the second half, Adams struck again but this time off an assist from Jackie Karlovich. Though it was a well-placed pass from Karlovich, Adams merely had to tap the ball into the goal as Cooper had taken herself out of the picture on a slide.
Keiser saw the scoreboard again in the 52nd minute as she carried the ball and shot to score unassisted.
With the game coming to an end, the Mountaineer freshman wanted more.
Smoker recorded another score in the 73rd minute off of a corner kick from Kaytlen Robinson that went to Hollie Green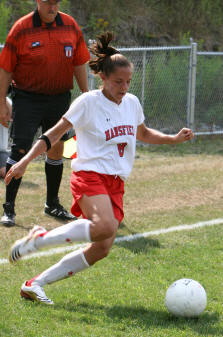 who then passed it to Smoker. Green was awarded the assist.
Megan Sullivan capped off the game with a goal of her own as Breanne Smith passed her the ball and shot it from just 18 yards out to place it in the top right corner.
Justine Segear recorded the shutout though her defense had a lot to do with it. The Mansfield defense held Alderson-Broaddus to only one shot on the day as the Mountaineers shot the ball 36 times with 22 of them being on goal.
Mansfield's next game is October 1 at East Stroudsburg University and will be at home again on October 4 against Lock Haven University. Home game time is at 1:30 pm.

Soccer Game Summary (Final)
Alderson-Broaddus vs Mansfield University (Sep 27, 2008 at Mansfield University)

Alderson-Broaddus vs. Mansfield University (4-5, 1,2)
Date: Sep 27, 2008 Attendance:
Weather: Rainy

Goals by period 1 2 Tot
-------------------------------
Alderson-Broaddus... 0 0 - 0
Mansfield University 2 4 - 6

SCORING SUMMARY:
1. 33:05 MANS-W Natalie Adams (Lyndi Keiser) - hit defender and went into goal into lef
2. 34:02 MANS-W Katelyn Smoker (Natalie Adams) - from the 18 on the right side
3. 47:31 MANS-W Natalie Adams (Jackie Karlovich) - walked ball into goal
4. 52:02 MANS-W Lyndi Keiser (unassisted)
5. 73:48 MANS-W Katelyn Smoker (Holly Green) - Corner kick
6. 82:49 MANS-W Megan Sullivan (Breanne Smith) - top right corner just inside the 18

Shots: Alderson-Broaddus 1, Mansfield University 36
Saves: Alderson-Broaddus 16 (Sarah Cooper 16), Mansfield University 0