RELEASE DATE: 10/18/08
FOR IMMEDIATE RELEASE: Womenís Soccer Falls To West Chester 2-0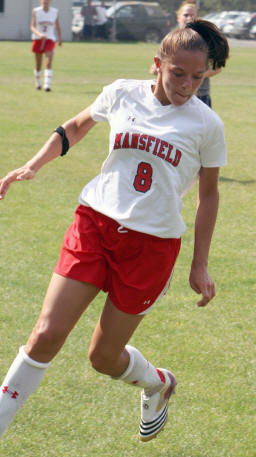 Mansfield womenís soccer fell to West Chester 2-0 in PSAC action Saturday afternoon 2-0 in West Chester.
West Chesterís Rita Alton scored a goal late in the first half to get things started for the Rams. Sarah Oswald kicked a high pass and Alton finished it off with a header that hit the cross bar to go in the goal.
With four minutes left in the game in the second half, Oswald scored a goal from an assist by Cindi Nickles.
"It was one of the best efforts all season," head coach Tim Dempsey said on for the fact that West Chester is 10-1-3 on the season and Mansfield is 4-9-1 after the game.
Mansfieldís Justine Segear had four saves while West Chesterís Hilary Smart had two.
West Chester had 14 shots with six of them on goal and Mansfield had seven shots with two of them on goal.
The Mountaineers see action again on the 21 at Shippensburg University at 4:30 and return home on the 25 against Dominican College (NY) at 1:30.
Soccer Game Summary (Final)
MANSFIELD vs West Chester (Oct 18, 2008 at WEST CHESTER, Pa.)
MANSFIELD (4-9-1) vs. West Chester (10-1-3)
Date: Oct 18, 2008 Attendance: 110
Weather: CHILLY

Goals by period 1 2 Tot
--------------------------------
MANSFIELD............... 0 0 - 0
West Chester............ 1 1 - 2

SCORING SUMMARY:
1. 39:06 WCU-W Rita Alton (Sarah Oswald) - Header off cross
2. 86:03 WCU-W Sarah Oswald (Cindi Nickles)

Shots: MANSFIELD 7, West Chester 15
Saves: MANSFIELD 4 (Justine Segear 4), West Chester 2 (Hilary Smart 2)