RELEASE DATE: 9/23/08
FOR IMMEDIATE RELEASE: Women's Soccer Falls 3-1 Against Kutztown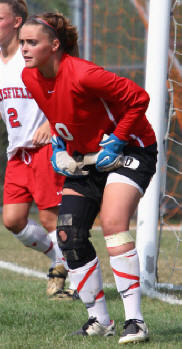 KUTZTOWN – The women's soccer team started the day off right with a goal early in the game but fell to Kutztown University in a PSAC matchup on Tuesday afternoon.
Freshman, Natalie Adams scored just three minutes into the game which proved to be Mansfield's only goal on the day. Adams' goal came from 12 yards out off of an assisted free kick from junior, Katie Parsnik.
Kutztown tied the score in the 29th minute and took the lead in the 34th minute off of goals scored by Chelsea Bressler. In the 53rd minute, Carolynne Kahl scored off a penalty kick to bring the final score to 3-1.
Though Mansfield had chances off of two more Adams shots, two shots from Parsnik and another shot from junior Brittany Lauck, the ball never saw the back of the net again as Kutztown's Steph Addleman recorded four saves.
Freshman, Kylee Jones started the game in goal and recorded five saves on the day.
Mansfield's next game is when they will host Alderson-Broaddus College on Saturday at 11 am.
<!file source:Z:\TASSO\2008WSOC\REPORTS\GAME.BOX>
                          Soccer Box Score (Final)
                    Kutztown University Women's Soccer 2008
             Mansfield vs Kutztown (Sep 23, 2008 at Kutztown, Pa.)




Mansfield (3-5-0, 1-4-0 PSAC E) vs.                         Goals by period       1  2  Tot
Kutztown (4-3-1, 3-2-1 PSAC E)                              -------------------------------
Date: Sep 23, 2008  Attendance: 159                         Mansfield...........  1  0 -  1
Weather: Sunny                                              Kutztown............  2  1 -  3

Mansfield                                               Kutztown
## Player                 MIN  GA Saves                 ## Player                 MIN  GA Saves
---------------------------------------                 ---------------------------------------
00 Kylee Jones.........  90:00  3     5                 31 Steph Addleman......  90:00  1     4

Shots by period       1  2  Tot                         Saves by period       1  2  Tot
-------------------------------                         -------------------------------
Mansfield...........  4  2 -  6                         Mansfield...........  2  3 -  5
Kutztown............  9  7 - 16                         Kutztown............  3  1 -  4

Corner kicks          1  2  Tot                         Fouls                 1  2  Tot
-------------------------------                         -------------------------------
Mansfield...........  0  1 -  1                         Mansfield...........  9  4 - 13
Kutztown............  3  0 -  3                         Kutztown............  3  6 -  9


SCORING SUMMARY:
GOAL   Time Team     Goal Scorer              Assists                            Description
-------------------------------------------------------------------------------------------------------------------------
 1.    2:25 MANS-W   Natalie Adams (4)        Katie Parsnik                      9 touches on free kick, 7 shot from 12yd
 2.   29:47 KUTZ-W   Chelsea Bressler (4)     Jen Tice                           14 thru to 8, 8 finishes behind GK
 3.   34:15 KUTZ-W   Chelsea Bressler (5)     (unassisted)                       8 steals in box, beats defender, GK
 4.   53:29 KUTZ-W   Carolynne Kahl (2)       Penalty kick                       PK: 8 taken down; 28 kicks lower-right




---