Release Date: 10/6/07
For Immediate Release: Mansfield ties nationally ranked West Chester 2-2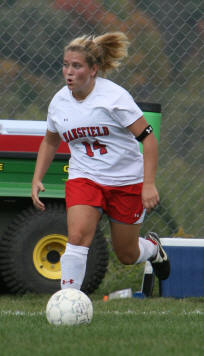 Mansfield- Senior Caroline Furmato (Pt. Pleasant,NJ/Pt. Pleasant) scored her first two goals of the season to bring Mansfield back from a 2-0 halftime deficit to tie #12 ranked West Chester.
West Chester started the scoring on a Danielle Gerz goal in the 22nd minute of the game.
West Chester had a two goal advantage in the 36th minute when a ball deflected off a Mansfield defender into the goal.
Mansfield came back in the second half scoring two minutes into the half. Furmato headed in an indirect kick from Anita Valerio (Manalapan,NJ/Manalapan).
Mansfield tied the score six minutes later when Furmato took a pass back from Colleen Corcoran (Allentown/ Central Catholic) and shot it past the West Chester goalie off the inside of the left post.
Mansfield goalie Justine Segear (Wilkes-Barre/Coughlin) made a big save for the Mountaineers with less than two minutes to go in the first overtime when a West Chester player got a quick shot off from ten yards away.
With one minute left in the second overtime, there was a scramble for the ball, and Mansfield's Lyndi Keiser (Mechanicsburg/Mechanicsburg) took a shot that was saved by the Golden Rams goalie as she fell on the outside of the post.
Mansfield moves to 2-9-2 on the season and 2-4-1 in the PSAC east.
Soccer Game Summary (Final)
WEST CHESTER vs Mansfield (Oct 06, 2007 at Mansfield University)
WEST CHESTER (10-1-2) vs. Mansfield (2-9-2)
Date: Oct 06, 2007 Attendance: 250
Weather: 85 and sunny
Goals by period 1 2 OT O2 Tot
-------------------------------------
WEST CHESTER........ 2 0 0 0 - 2
Mansfield........... 0 2 0 0 - 2
SCORING SUMMARY:
1. 22:02 WCU-W Danielle Gerz (3) (Sam Paolino) - Corner kick
2. 36:25 WCU-W OWN GOAL (unassisted) - reflected off Mansfield defender
3. 47:09 MANS-W Caroline Furmato (1) (Anita Valerio) - header off indirect kick
4. 53:06 MANS-W Caroline Furmato (2) (Colleen Corcoran) - Give and Go
Shots: WEST CHESTER 28, Mansfield 12
Saves: WEST CHESTER 6 (Brittany Barnes 2; Hilary Smart 4), Mansfield
17 (Justine Segear 17)