RELEASE DATE: 9/20/07
FOR IMMEDIATE RELEASE: Mansfield edged 1-0 by #22 West Chester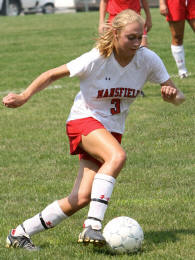 West Chester – Brittany Yetter scored the game's only goal in the 82nd minute to lift #22 ranked West Chester to a 1-0 win over Mansfield in a PSAC East contest at West Chester Thursday afternoon.
Yetter's goal came after a West Chester corner and goalie Brittany Barnes stopped Mansfield's Kaytlen Robinson's shot with five minutes to play to preserve the win.
Mansfield played well defensively but struggled to put shots on net being outshot 14-2.
Justine Segear had five saves in goal for the Mountaineers.
Mansfield travels to IUP on Saturday.
Soccer Game Summary (Final)
Mansfield vs #22 WEST CHESTER (Sep 20, 2007 at WEST CHESTER, Pa.)
Mansfield (2-4-1/2-2-0 PSAC E) vs. WEST CHESTER (7-1-1/3-1-1 PSAC E)
Date: Sep 20, 2007 Attendance: 90
Weather: SUNNY, WARM 80s
Goals by period 1 2 Tot
-------------------------------
Mansfield........... 0 0 - 0
WEST CHESTER........ 0 1 - 1
SCORING SUMMARY:
1. 82:06 WCU-W Brittany Yetter (5) (Christine Thurwanger)
Shots: Mansfield 2, WEST CHESTER 14
Saves: Mansfield 5 (Justine Segear 5), WEST CHESTER 1 (Brittany Barnes
1)