RELEASE DATE: 9/15/07
FOR IMMEDIATE RELEASE: Mansfield falls to #5 Slippery Rock 4-0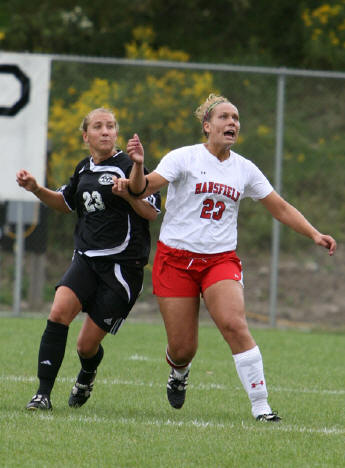 MANSFIELD – The Mansfield University women's soccer team never managed to get untracked offensively in dropping a 4-0 decision to #5 ranked Slippery Rock Saturday afternoon.
Slippery Rock did all its scoring over a 10 minute span in the first half and Mansfield wasn't able to counter.
Jaimi Wilson scored the game's first goal on a penalty kick in the 20th minute whith Danielle Cooper adding a goal just over a minute later.
Mallory Neubert scored in the 27th minute with Meghan McGrath adding the games final goal in the 29th minute.
Mansfield had two scoring opportunities in the first half on shots by Lyndi Keiser.
Freshman goalie Kaitlyn Antolic made her first collegiate appearance in goal in the second half and stopped all five shots attempted on her.
Mansfield, who had not given up more than one goal in any of it's first five games, falls to 2-3-1 overall and travels to West Chester on Thursday for the first of three straight road trips.
Soccer Game Summary (Final)
#5 Slippery Rock vs Mansfield (Sep 15, 2007 at Mansfield, Pa)
Slippery Rock (7-1-0) vs. Mansfield (2-3-1)
Date: Sep 15, 2007 Attendance: 108
Weather: Mid 50's, Breezy
Goals by period 1 2 Tot
-------------------------------
Slippery Rock....... 4 0 - 4
Mansfield........... 0 0 - 0
SCORING SUMMARY:
1. 20:12 ROCK-W Jaimi Wilson Penalty kick
2. 21:22 ROCK-W Danielle Cooper (unassisted) - top right corner
3. 26:47 ROCK-W Mallory Neubert (Cara Kelleher) - upper right
4. 29:45 ROCK-W Meghan McGrath (Melisa Sharek) - upper right
Shots: Slippery Rock 20, Mansfield 11
Saves: Slippery Rock 5 (Sarah Lacy 2; Lauren McManus 3), Mansfield 5
(Kaitlyn Antolic 5)