Release Date 10/15/07
For Immediate Release: Women's soccer falls to Shippensburg 6-1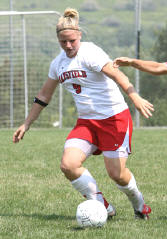 Shippensburg- Sophomore defender Katie Parsnik scored the first collegiate goal of her career off a free kick but Mansfield fell to Shippensburg 6-1.
Amanda Greenawalt had two goals for Shippensburg as they out shot Mansfield 16-12.
Junior goalie Justine Segear had one save for Mansfield while freshman Samantha DeLiere made three saves.
The Mountaineers travel to East Strousburg on Saturday.

Soccer Game Summary (Final)
Mansfield vs Shippensburg (Oct 15, 2007 at Shippensburg, PA)


Mansfield (2-11-2, 2-6-1 PSAC E) vs. Shippensburg (7-10, 5-7 PSAC East)
Date: Oct 15, 2007 Attendance: 81
Weather: Sunny, pleasant and divine for mid-October

Goals by period 1 2 Tot
-------------------------------
Mansfield........... 0 1 - 1
Shippensburg........ 3 3 - 6

SCORING SUMMARY:
1. 9:36 SHIP-W Gayle Kuntzmann (5) (unassisted) - Hammered in rebound from goal box after
2. 11:50 SHIP-W Amanda Greenawalt (6) (Sarah Tagye)
3. 43:12 SHIP-W Lauren Beaner (3) (Hannah Sanders)
4. 49:31 SHIP-W Alison Dowdrick (3) (Gayle Kuntzmann)
5. 66:50 MANS-W Katie Parsnik (1) (unassisted)
6. 70:31 SHIP-W Amanda Greenawalt (7) (Lauren Beaner)
7. 73:45 SHIP-W Mallory Skipp (1) (unassisted)

Shots: Mansfield 12, Shippensburg 16
Saves: Mansfield 5 (Justine Segear 1; Samantha DeLiere 3; TEAM 1),
Shippensburg 6 (Beth Long 6)