RELEASE DATE: 10/24/07
FOR IMMEDIATE RELEASE: Keiser's goal lifts Mansfield to 1-0 win over Millersville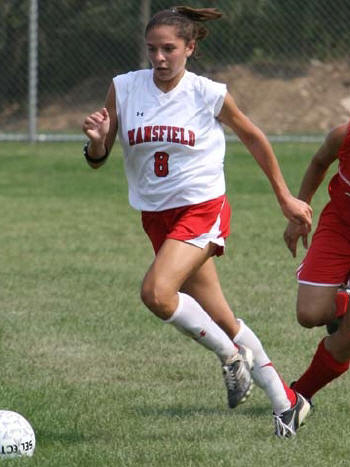 MANSFIELD – Lyndi Keiser scored the game's only goal in the 84th minute to lift Mansfield to a 1-0 win over Millersville in a PSAC East women's soccer game Wednesday afternoon.
"I'm just happy for our players," said head coach Tim Dempsey. "We've lost five games by a goal this year including our last one against a regionally ranked team. To play this hard after all that disappointment this late in the season really says something about the character of this team."
Scoring opportunities were in short supply for both team as they battled to a 0-0 tie at halftime.
Millersville pressured the net midway through the second half before senior Anita Valerio lead a breakaway with a pinpoint pass to Keiser on the left wing. Keiser drilled the ball into the net from 20 yards out with just 6:06 to play and the defense and goalie Justine Segear hung on for their first win in 12 games.
Mansfield will close out the 2007 season when they host Kutztown on Saturday.
Soccer Game Summary (Final)
Millersville vs Mansfield (Oct 24, 2007 at Mansfield PA)
Millersville (4-11-3, 1-8-3) vs. Mansfield (3-12-2, 3-7-1)
Date: Oct 24, 2007 Attendance: 50
Weather: 50s, overcast
Goals by period 1 2 Tot
-------------------------------
Millersville........ 0 0 - 0
Mansfield........... 0 1 - 1
SCORING SUMMARY:
1. 83:54 MANS-W Lyndi Keiser (Anita Valerio)
Shots: Millersville 4, Mansfield 5
Saves: Millersville 4 (Karrine Riggins 4), Mansfield 4 (Justine Segear
4)