Travisano and Nester lead Mansfield to 2-1 win over Millersville in women's soccer
Mansfield improves to 2-1-1 on season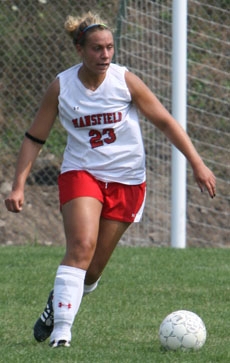 Millersville-- Robyn Travisano (Hellertown/ Saucon Valley) and Karli Nester (Bally/Boyertown) scored goals for Mansfield in a 2-1 win over Millersville on Saturday in a PSAC East game at Millersville.
"We took advantage of our opportunities to score and our defense played well – especially Robin," said head coach Tim Dempsey. "We literally hung on in the end but we did hang on for the win."
Millersville controlled most of the contest, out shooting the Mountaineers 17-6. The Mountaineers took advantage of there opportunities, and played solid defense through to pick up the win.
Senior Robyn Travisano got Mansfield on the board first scoring on a direct kick from 25 yards out in the 23rd minute.
That would prove to be the only score in the first half.
In the 71st minute, freshman Karli Nester would give the Mountaineers a cushion when she tapped in a goal off a pass from Caroline Furmato (Pt.Pleasant,NJ/Pt. Pleasant) to give Mansfield the 2-0 lead.
Millersville closed to within one when goalie Karrine Riggins scored on a free kick from 20 yards out with only three minutes to go in the game.
Mansfield held the Marauders for the final three minutes to hold on for the 2-1 win. The story of the game was the Mansfield defense.
"They carried play for most of the game," Mansfield head coach Tim Dempsey said. "Robyn played outstanding, when we needed a play she was there to make it."
Justine Segear (Wilkes-Barre/Coughlin) made 11 saves for Mansfield, while Riggins recorded three saves for Millersville.
Soccer Game Summary (Final)
Mansfield vs Millersville (Sep 09, 2007 at Millersville, PA)
Mansfield (2-1-1 (2-1-0 PSAC_) vs. Millersville (0-3-2 (0-3-2 PSAC))
Date: Sep 09, 2007 Attendance: 100
Weather:
Goals by period 1 2 Tot
-------------------------------
Mansfield........... 1 1 - 2
Millersville........ 0 1 - 1
SCORING SUMMARY:
1. 23:15 MANS-W Robyn Travisano (unassisted) - On direct kick from 25 yards
2. 71:21 MANS-W Karli Nester (Caroline Furmato)
3. 87:25 MILL-W Karrine Riggins (1) (unassisted) - On free kick 20 yards out
Shots: Mansfield 6, Millersville 17
Saves: Mansfield 11 (Justine Segear 11), Millersville 3 (Karrine
Riggins 3)