RELEASE DATE: 9/26/07
FOR IMMEDIATE RELEASE: Mansfield women's soccer falls to Lock Haven 1-0
L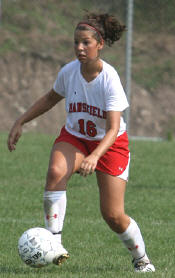 OCK HAVEN – The Mansfield University women's soccer team dropped a 1-0 decision at Lock Haven Wednesday afternoon.
Lock Haven's Arielle Gordon scored the game's only goal in the first four minutes of play on an unassisted shot from 10-yards out.
Mansfield did manage two good shots on goal in the first half from Caroline Furmato and on a free kick by Anita Valerio but couldn't get the ball past the goalie.
Mansfield goalie Justine Seagear had three saves while Lock Haven goalie Emily Wagner was credited with five saves.
Mansfield falls to 2-6-1 and will end a tough three game road trip by hosting Bloomsburg Saturday afternoon.
Soccer Game Summary (Final)
Mansfield vs LHU-W (Sep 26, 2007 at Lock Haven Univ.)
Mansfield (2-6-1) vs. LHU-W (5-7-1)
Date: Sep 26, 2007 Attendance: 193
Weather:
Goals by period 1 2 Tot
-------------------------------
Mansfield........... 0 0 - 0
LHU-W............... 1 0 - 1
SCORING SUMMARY:
1. 3:51 LHU-W GORDON, Arielle (unassisted) - 10 yards out, near post one one one
Shots: Mansfield 8, LHU-W 15
Saves: Mansfield 3 (Justine Segear 3), LHU-W 5 (WAGNER, Emily 5)