RELEASE DATE: 9/3/07
FOR IMMEDIATE RELEASE: Keiser scores twice to lead Mounties to 2-1 win over Kutztown – First win over Kutztown in school soccer history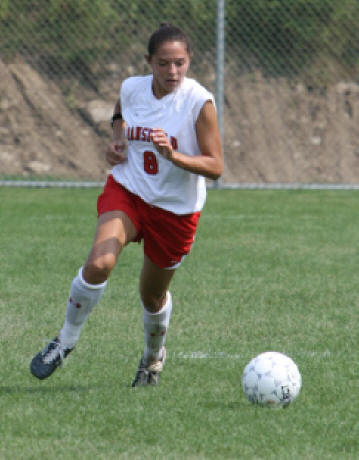 KUTZTOWN – Lyndi Keiser (Mechanicsburg/Mechanicsburg) scored twice to lead Mansfield to a 2-1 win over Kutztown in a PSAC East women's soccer game at Kutztown Monday afternoon.
"At times it wasn't pretty," said head coach Tim Dempsey. "But we played hard for the entire game and in the end it was that team intensity that was the deciding factor in the game."
Keiser, who scored both goals off corner opportunities, gave Mansfield an early lead getting a foot on a ball deflected by the goalie in the sixth minute of the game. Robin Travisano (Hellertown/Saucon Valley) was credited with an assist on the play.
Kutztown (2-1-1, 0-1-1) would tie the score in the 24th minute when Kim Kelty scored off a cross from Raven Chiara as the two teams went into halftime tied at 1-1.
Keiser scored what proved to be the winning goal when she tapped a loose ball past the goalie on a corner in the 61st minute.
The Mountaineer defense rose to the challenge over the last 29 minutes of the game to hold on for the Mountaineers first win over Kutztown in the program's six year history.
Justine Segear (Wilkes-Barre/Coughlin) had six saves in goal for Mansfield while Kutztown's Stefanie Bonsky had four saves.
Kutztown held a 11-7 shot advantage while Mansfield held a 6-3 advantage on corners.
"The first time for anything is always special," Dempsey said. "But we really earned it today. We tied them down there in a 0-0 double overtime last year in a game that we probably should have won so it just makes it that much sweeter today."
Keiser has scored all three Mansfield goals on the season as the Mountaineers improve to 1-1-1 on the year. Both decisions have been by one goal against Shippensburg and Kutztown, both of which earn PSAC playoff berths last season.
The Mountaineers travel to Millersville on Saturday.
Soccer Game Summary (Final)
Mansfield vs Kutztown (Sep 03, 2007 at Kutztown, Pa.)
Mansfield (1-1-1, 1-1-0) vs. Kutztown (2-1-1, 0-1-1)
Date: Sep 03, 2007 Attendance: 240
Weather: Sunny
Goals by period 1 2 Tot
-------------------------------
Mansfield........... 1 1 - 2
Kutztown............ 1 0 - 1
SCORING SUMMARY:
1. 6:02 MANS-W Lyndi Keiser (Robyn Travisano)
2. 24:18 KUTZ-W Kim Kelty (2) (Raven Chiara)
3. 61:08 MANS-W Lyndi Keiser (unassisted)
Shots: Mansfield 7, Kutztown 11
Saves: Mansfield 6 (Justine Segear 6), Kutztown 4 (Stefanie Bonsky 4)