RELEASE DATE: 11/07/07
FOR IMMEDIATE RELEASE: Mansfield's Lyndi Keiser named to All-PSAC East honors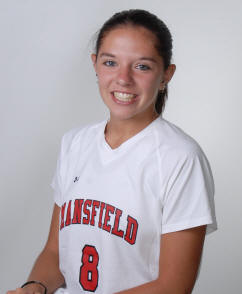 MANSFIELD – Mansfield University women's soccer standout Lyndi Keiser (Mechanicsburg/Mechanicsburg) has been named to the 2008 Pennsylvania State Athletic Conference (PSAC) East Division women's all-conference team.
The All-PSAC women's soccer team is selected by voting conducted among the conference head coaches and was released today.
The junior forward was named to Second Team All-PSAC East for the third straight year making her the first player in school history to earn All-PSAC East honors in each of her first three seasons.
Keiser led the Mountaineers in scoring with five goals on the season and is also the program all-time leading scorer with 22 goals and 50 points over her first three seasons.
She is one of just two players in the program's six-year history to be named to All-PSAC East honors three times.
###