RELEASE DATE: 9/22/07
FOR IMMEDIATE RELEASE: Women's Soccer suffers 5-0 loss at IUP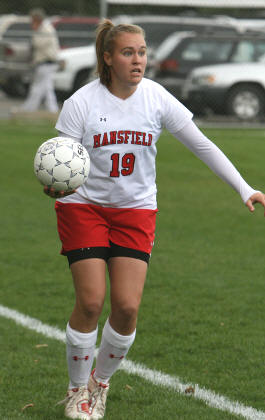 INDIANA, PA – The Mansfield University women's soccer team suffered a 5-0 setback at IUP Saturday afternoon.
Mansfield could manage little offense and had its worst defensive outing of the season in the loss.
IUP held a 28-10 shot advantage but Mansfield held a 5-4 advantage in corners.
Justine Segear had 11 saves in goal for Mansfield while IUP's Kelsey Dowling was credited with seven saves.
Mansfield travels to Lock Haven on Wednesday.
Soccer Game Summary (Final)
Mansfield vs IUP (Sep 22, 2007 at Indiana, Pa.)
Mansfield (2-5-1) vs. IUP (5-3)
Date: Sep 22, 2007 Attendance: 100
Weather:
Goals by period 1 2 Tot
-------------------------------
Mansfield........... 0 0 - 0
IUP................. 2 3 - 5
SCORING SUMMARY:
1. 13:37 IUP-W Melissa Kornock (4) (Sarah Romasco)
2. 14:19 IUP-W Sarah Romasco (5) (Melissa Kornock)
3. 76:06 IUP-W Jena Chatlos (1) (Sarah Romasco)
4. 77:55 IUP-W Sarah Romasco (6) (Kelsey Hernjak)
5. 83:17 IUP-W Ashley Moyer (3) (Melissa Leszek)
Shots: Mansfield 10, IUP 28
Saves: Mansfield 11 (Justine Segear 11), IUP 7 (Kelsey Dowling 7)