RELEASE DATE: 10/20/07
FOR IMMEDIATE RELEASE: Women soccer drops 2-1 overtime decision at East Stroudsburg – Corcoran scores off header for Mountaineers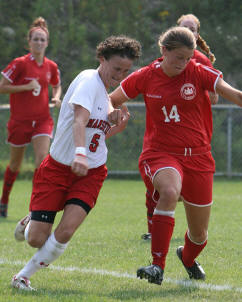 EAST STROUDSBURG – Colleen Corcoran scored on a header to give Mansfield an early lead but East Stroudsburg would rally to pull out a 2-1 overtime win in PSAC East women's soccer Saturday afternoon.
"We did a lot of good things out there today," said head coach Tim Dempsey. "We played hard and with purpose."
Lynda Hicks hit the game winning goal in the fourth minute of overtime to give East Stroudsburg its 11th win in 16 games.
Mansfield got on the scoreboard first when Robyn Travisano lifted a free kick over the defenders and Corcoran headed it past the oncoming goalie in the 11th minute.
East Stroudsburg would tie the game when Janel Cleffi scored in the 25th minute and the two teams went into halftime tied at 1-1.
The teams battled to a scoreless second half before Hicks hit the winning shot.
It was the first goal of the season for Corcoran and the 17th of her career.
Justine Segear recorded 14 saves in goal for the Mountaineers.
Mansfield wraps the season this week hosting Millersville on Wednesday and Kutztown on Saturday.
Soccer Game Summary (Final)
Mansfield vs East Stroudsburg (Oct 20, 2007 at East Stroudsburg, PA)
Mansfield (2-13) vs. East Stroudsburg (11-4-1)
Date: Oct 20, 2007 Attendance: 121
Weather: Partly Cloudy
Goals by period 1 2 OT Tot
----------------------------------
Mansfield........... 1 0 0 - 1
East Stroudsburg.... 1 0 1 - 2
SCORING SUMMARY:
1. 10:51 MANS-W Colleen Corcoran (unassisted) - Header off set piece
2. 24:12 ESU-W Janel Cleffi (Jennifer Buckley)
3. 93:22 ESU-W Lynda Hicks (Kailyn Buckley) - off of rebound
Shots: Mansfield 1, East Stroudsburg 26
Saves: Mansfield 10 (Justine Segear 14), East Stroudsburg 0 ()