RELEASE DATE: 10/04/07
FOR IMMEDIATE RELEASE: Mansfield falls to East Stroudsburg 5-0 in women's soccer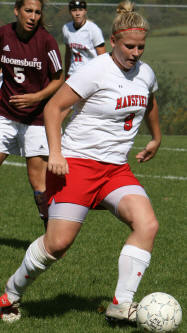 MANSFIELD – Lynda Hicks recorded a hat-trick to lead East Stroudsburg to a 5-0 win over Mansfield in a PSAC East women's soccer on Thursday afternoon.
East Stroudsburg scored four times in the first half with Kaily Buckley and Jennifer Buckley each adding a goal in addition to Hicks.
Justine Segear and Samantha DeLiere combined for eights saves in goal for Mansfield.
Mansfield hosts West Chester Saturday afternoon at 1:30 p.m.
Soccer Game Summary (Final)
East Stroudsburg vs Mansfield (Oct 04, 2007 at Mansfield, PA)
East Stroudsburg (6-4-1(4-2-1)) vs. Mansfield (2-9-1 (2-4))
Date: Oct 04, 2007 Attendance: 65
Goals by period 1 2 Tot
-------------------------------
East Stroudsburg.... 4 1 - 5
Mansfield........... 0 0 - 0
SCORING SUMMARY:
1. 12:05 ESU-W Kailyn Buckley (3) (Dena Shleifer)
2. 18:32 ESU-W Jennifer Buckley (1) (unassisted)
3. 34:29 ESU-W Lynda Hicks (5) (Kaitlin Anders)
4. 39:29 ESU-W Lynda Hicks (6) (Kerry Ruland)
5. 69:53 ESU-W Lynda Hicks (7) (unassisted)
Shots: East Stroudsburg 21, Mansfield 13
Saves: East Stroudsburg 7 (Samantha Marina 2; Janine Turcio 5),
Mansfield 8 (Justine Segear 5; Samantha DeLiere 3)