RELEASE DATE: 8/25/07
FOR IMMEDIATE RELEASE: Women's Soccer Battles to 1-1 double overtime tie in season opener against Edinboro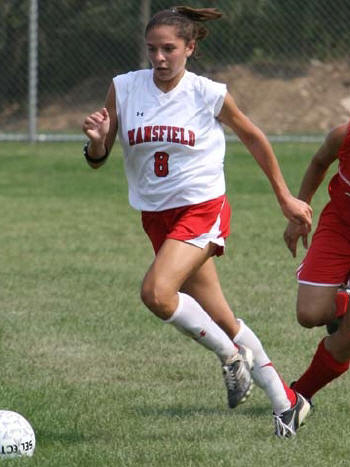 MANSFIELD – With the temperature in the 90s and the humidity even higher Mansfield University and Edinboro University opened their 2007 season battling for 110 minutes to a 1-1 double-over tie at the Soccer Field Saturday afternoon.
"I thought it was a courageous effort against a team that made the playoffs last season," said head coach Tim Dempsey. "It wasn't a win but it was a great effort and a positive performance to build on for our next game against Shippensburg."
It looked like the first game of the season in the first half as both offensives struggled.
"It looked like we we're playing not to lose rather than playing to win in the first half," said Dempsey. "That all changed after the first goal was scored."
Strangely the games only goals come within a minute of each other in the second half.
Edinboro, which held a 15-4 shot advantage in the game, scored in the 76th minute on a goal by Mary Grebenc off an assist by Angie de Almeida. Less than 30 second later Mansfield's Lyndi Keiser took a cross from Colleen Corcoran beat the defender and put the ball past the oncoming goalie.
Mansfield had at least two scoring opportunities in the overtimes but failed to convert.
Justine Segear played well in goal and was credited with nine saves for Mansfield while Samantha Cairns had one save for Edinboro.
Mansfield host Shippensburg on Wednesday.
Mansfield 1 Edinboro 1 2ot
Scoring

Edinboro Mary Grebenc (Angie de Almeida)
Mansfield Lyndi Keiser (Colleen Corcoran)
Shot – Edinboro 15, Mansfield 4
Saves – Edinboro 1 (Samantha Cairns), Mansfield 9 (Justine Segear)
Corner s – Edinboro 6, Mansfield 2