RELEASE DATE: 10/01/07
FOR IMMEDIATE RELEASE: California outlast Mountaineers 3-2 in women's soccer – Robyn Travisano and Lyndi Keiser both score goals for Mansfield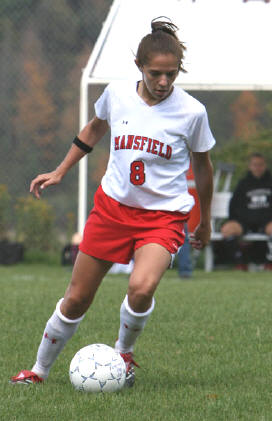 CALIFORNIA – Despite goals by Robyn Travisano (Hellertown/Saucon Valley) and Lyndi Keiser (Mechanicsburg/Mechanicsburg) California managed to outlast Mansfield 3-2 in women's soccer Monday afternoon at California.
Travisano gave Mansfield a 1-0 lead when she kicked a rebound past the California goalie Erin Cook in a scrum in front of the net just over seven minutes into the game.
California tied the game 10 minutes later on a goal by Michelle Ewig and took a 2-1 lead just over a minute later when Ewig scored again after a punt bounced over the defender setting up Ewig for a breakaway.
California would take a 3-1 lead into halftime when Amanda Heister scored in the 27th minute.
Mansfield cut the lead to 3-2 on a breakaway by Keiser in the 67th minute but California was able to maintain the lead and outlast the Mansfield for the win.
California held a slim 14-13 advantage in shots while Mansfield had a 6-1 advantage in corners.
Justine Segear (Wilkes-Barre/Coughlin) recorded four saves in goal for Mansfield while Cook was credited with seven saves for California.
Mansfield (2-7-2) host East Stroudsburg on Thursday.
Soccer Game Summary (Final)
Mansfield vs California, Pa. (Oct 01, 2007 at California, Pa.)
Mansfield (2-8-1) vs. California, Pa. (2-10-1)
Date: Oct 01, 2007 Attendance: 60
Weather: sunny, warm, slight breeze
Goals by period 1 2 Tot
-------------------------------
Mansfield........... 1 1 - 2
California, Pa...... 3 0 - 3
SCORING SUMMARY:
1. 7:30 MANS-W Robyn Travisano (unassisted)
2. 17:15 CAL-W Michelle Ewig (Amanda Heister)
3. 18:22 CAL-W Michelle Ewig (Erin Cook)
4. 26:11 CAL-W Amanda Heister (Erin Riggle)
5. 66:17 MANS-W Lyndi Keiser (unassisted)
Shots: Mansfield 13, California, Pa. 14
Saves: Mansfield 4 (Justine Segear 4), California, Pa. 7 (Erin Cook 7)
team cards on MU: 1st on assistant coach; 2nd on head coach