For Immediate Release- 9/29/07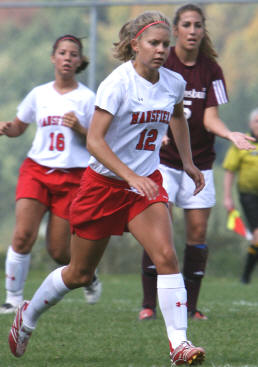 Mansfield- Meg Donlon scored two goals to lead Bloomsburg to a 2-0 win over Mansfield in a PSAC east contest on Saturday afternoon.
Donlon gave Bloomsburg the lead in the first half on a shot that beat Mansfield goalie Justine Segear to the right side.
Donlonís second goal came with 20:09 in the second half on a crossing pass from Jessica Bender. Donlonís shot came from the left side from 10 yards out.
The Mountaineers best opportunities came when Lyndi Keiser
(Mechanicsburg/Mechanicsburg) had a shot that sailed high, and Robyn Travisano (Hellertown/Saucon Valley) took a shot that went just left of the net.
The Mountaineers did have a 7-6 advantage in corner kicks but were unable to get anything last Bloomsburg goalie Brittany Moses.
Mansfield goalie Justine Segear (Wilkes-Barre/Coughlin) recorded two saves.
Mansfield falls to 2-6-1 on the year and will travel to California (PA) on Monday Oct.1
Soccer Game Summary (Final)
Bloomsburg vs Mansfield (Sep 29, 2007 at Mansfield, PA)
Bloomsburg (4-5-1 (3-3-1)) vs. Mansfield (2-6-1 (2-3-0))
Date: Sep 29, 2007 Attendance: 85
Goals by period 1 2 Tot
-------------------------------
Bloomsburg.......... 1 1 - 2
Mansfield........... 0 0 - 0
SCORING SUMMARY:
1. 16:29 BLOOM-W Meg Donlon (unassisted)
2. 69:50 BLOOM-W Meg Donlon (Jessica Bender)
Shots: Bloomsburg 16, Mansfield 10
Saves: Bloomsburg 5 (Brittany Moses 5), Mansfield 2 (Justine Segear 2)