RELEASE DATE: 9/12/07
FOR IMMEDIATE RELEASE: Mounties fall to Clarion 1-0 in PSAC women's soccer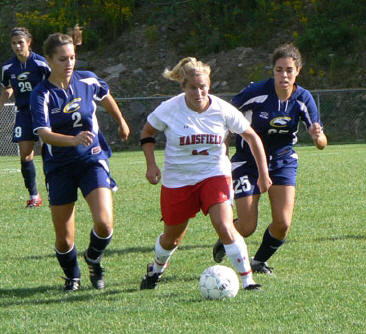 MANSFIELD - Clarion's Beth Ellen Dibeler scored the games only goal in the 32nd minute to lift Clarion to a 1-0 win over Mansfield in Wednesday's non-league game at Mansfield. Dibeler kick was off a free kick from thirty yards out that went in the left corner of the goal.
The Mountaineers did have a slight shot advantage over the Golden Eagles 15-14. Mansfield held play for most of the beginnings of the first half. Mansfield had a chance when Lyndi keiser (Mechanicsburg/Mechanicsburg) put a shot on goal that was stopped by Clarion goalie Jess Redd, and two minutes later Colleen Corcoran (Allentown/Central Catholic) took a shot that went wide.
Mansfield had a good opportunity in the final minutes of the game when Anita Valerio (Manalapan,NJ/Manalapan) sent a corner kick to the front of the net, but Robyn Travisano's (Hellertown/Saucon Valley) header attempt went high.
It was a tough, physical contest from the onset. Mansfield had a man advantage for the last three minutes of the first half when a Clarion player got a red card, but the Mountaineers were only able to get one shot off.
Samantha Deliere made her first ever collegiate and had five saves, while Clarion goalie Jess Reed had three saves.
The loss snaps a modest two game winning streak for Mansfield and brings their record to 2-2-1.
The Mountaineers will host Slippery Rock, the regions top-ranked team, on Saturday starting at 1:30 p.m.
Soccer Game Summary (Final)
CLAR-W vs Mansfield (Sep 12, 2007)
CLAR-W (3-3) vs. Mansfield (2-2-1)
Date: Sep 12, 2007 Attendance: 78
Weather:
Goals by period 1 2 Tot
-------------------------------
CLAR-W.............. 1 0 - 1
Mansfield........... 0 0 - 0
SCORING SUMMARY:
1. 31:59 CLAR-W Beth Ellen Dibeler Corner kick
Shots: CLAR-W 14, Mansfield 15
Saves: CLAR-W 3 (Jess Reed 3), Mansfield 5 (Samantha DeLiere 5)